UK Enters Final Stages of Afghan Evacuation, Shuts Processing Site
Britain's evacuation mission at Kabul airport is in its final hours after the main processing site was shut, UK Defence Secretary Ben Wallace said on Friday morning.
"We will process the people that we've brought with us, the 1,000 people approximately in the airfield now, and we will seek a way to continue to find a few people in the crowds where we can, but overall the main processing is now closed and we have a matter of hours," he told Sky News.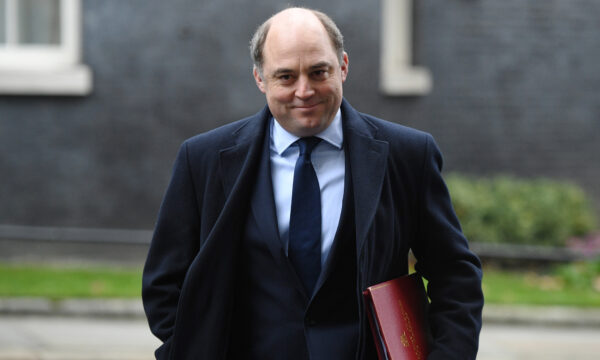 "It is with deep regret that not everyone has been able to be evacuated during this process," he said.
The UK had evacuated 13,146 people from Afghanistan, the Ministry of Defence said on Thursday evening.
But around 800 to 1,100 Afghans who worked with Britain and had been eligible to leave the country would not make it through, Wallace told LBC radio.
Both the Baron Hotel processing centre and the Abbey Gate to Kabul airport had been shut, he told Sky.
Both sites were hit by bomb blasts on Thursday in an attack claimed by the ISIS terrorist group, in which more than 90 people were killed, including 13 U.S. troops.
But Wallace said the attack had not forced the UK to end its mission earlier than scheduled.
"We closed the Baron Hotel almost exactly on schedule. The explosion was horrendous, but it didn't hasten our departure," he said.
But he said the terror threat will grow further at the airport as the NATO forces' final departure date approaches.
"The threat is obviously going to grow the closer we get to leaving," he told Sky News. "The narrative is always going to be, as we leave, certain groups such as ISIS will want to stake a claim that they have driven out the U.S. or the UK."
Wallace said the UK will continue to assist those eligible Afghans who cannot be evacuated from the airport.
"We will make sure that we have our visa processing centres or indeed our enhanced capabilities in and around the region and those neighbouring countries, and people who can should make their way to that third country and we will process them."
Prime Minister Boris Johnson said on Thursday that he expects the Taliban to allow those who want to leave Afghanistan to do that.
"We will use all the influence that we can bring to bear—political or economic or diplomatic as we said at the G-7—to encourage the new authorities in Afghanistan to do that."
PA, Reuters, and The Associated Press contributed to this report.