A new government partnership plan to fast-track new medical products by piggybacking on international drug regulators risks turning the UK watchdog into a pharmaceutical industry "enabler," a health pressure group is warning.
Chancellor Jeremy Hunt announced on Wednesday that £10 million will be given to the UK regulator, the Medicines and Healthcare products Regulatory Agency (MHRA), to help streamline approvals for new medical products.
Under the plans, drugs that have already been approved by regulators elsewhere could be rubber-stamped with "rapid, often near automatic sign-off" in the UK.
The first regulatory partners MHRA intends to build new recognition routes with are agencies in the USA, Europe, and Japan.
The MHRA said it will still be responsible for the approval of all "recognition route applications."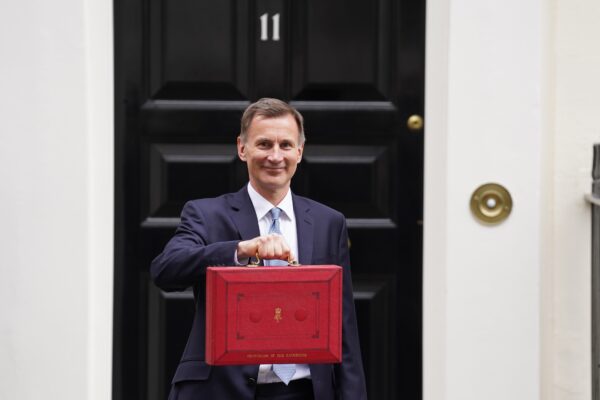 'Near Automatic Sign-Off'
In his Budget speech on Wednesday, Hunt said: "We are lucky with the MHRA to have one of the most respected drugs regulators in the world, indeed the very first to licence a COVID vaccine.
"From 2024, they will move to a different model which will allow rapid, often near automatic sign-off for medicines and technologies already approved by trusted regulators in other parts of the world such as the United States, Europe or Japan.
"At the same time from next year, they will set up a swift new approval process for the most cutting-edge medicines and devices to ensure the UK becomes a global centre for their development.
"And with an extra £10m of funding over the next two years they will put in place the quickest, simplest, regulatory approval in the world for companies seeking rapid market access."
Alison Dennis, life sciences expert at international law firm Taylor Wessing, said: "The MHRA has had to recognise that outside the EU, the UK is a relatively small market and for which a separate regulatory system would be a barrier to placing medicines and devices on the market.
"By recognising other authorities' decisions (both for medicines and devices), the MHRA can ensure that regulation is not a barrier to market entry into the UK," she added.
'Enabler of the Pharmaceutical Industry'
Consultant pathologist Dr. Clare Craig told The Epoch Times that she believed that the MRHA was at risk of moving from watchdog to becoming an "enabler" of the pharmaceutical industry.
Craig is part of HART, a group of UK doctors, scientists, and other academic experts set up to share concerns about policy and guidance recommendations relating to the COVID-19 pandemic.
"That's the first strategy, to become an enabler of the pharmaceutical industry. But that's not what the public needs them for, the public needs them to be a watchdog," she said.
Craig said that there isn't a campaign where patients are saying things are moving too slowly.
"It doesn't mean that patients can't get drugs that they need, because doctors are able to prescribe things off-license if the circumstances mean that that's a sensible thing to do," she added.
"It's being spun as if there are all these patients who are desperate to have drugs and they just, they miss out on them because it wasn't approved in a 100 days and that's just a fancy really, that's not the issue," she said.
HART has criticised and written to MRHA regarding short and long-term safety concerns about COVID-19 vaccines, especially for children.
"I think watching the last few years has shown that we need to be doing the opposite and getting them to be more careful about safety," she said.
Craig said that authorities need to be independent, otherwise it could serve the interests of pharmaceutical companies.
She said that there is a "ridiculous sort of peer pressure"  to race to become the first to approve.
"Then once that one of them does it, it becomes very, very hard for another regulator at the country to go against that tide," she added.
'Ambitious Vision'
Academics as well as representatives of the pharmaceutical industry welcomed the Chancellor's news.
Sir Martin Landray, professor of medicine and epidemiology at the University of Oxford, said the plan "makes sense."
"So a default position of adopting an approval that has been issued by another sophisticated regulator such as U.S. FDA or European Medicines Agency makes sense, and frees up resource to focus on medicines that have particular scientific or clinical issues or where approvals in other countries seem inappropriately slow for non-scientific reasons," he said.
In a statement, British Pharmaceutical Industry (ABPI) Chief Executive Richard Torbett said: "The Chancellor has announced welcome support for the MHRA.
"An increase in long-term funding, measures to speed up approvals for new medicines, and a commitment to increase collaboration with global regulators will all support pharmaceutical companies bringing new medicines to UK patients," he added.
The Epoch Times contacted the MRHA for comment.
PA Media contributed to this report.