Nuclear energy is set to be classified as sustainable so the industry can have the same access to investment incentives as renewables, the UK chancellor has said.
In his Spring Budget delivered on Wednesday, Chancellor of the Exchequer Jeremy Hunt said the government will launch a Great British Nuclear scheme to "bring down costs" and "provide opportunities" in the supply chain, with a view to nuclear power providing 25 percent of the UK's electricity by 2050.
"But because the wind doesn't always blow and the sun doesn't always shine, we will need another critical source of cheap and reliable energy," said Hunt. "And that is nuclear."
"So to encourage the private sector investment into our nuclear programme, I today confirm that subject to consultation nuclear power will be classed as 'environmentally sustainable' in our green taxonomy, giving it access to the same investment incentives as renewable energy."
Hunt reiterated an announcement made in the autumn to invest £700 million in the Sizewell C nuclear power station planned in Suffolk. Competition for small modular reactors (SMRs), which will be funded if the technology is proven to be viable, was also launched.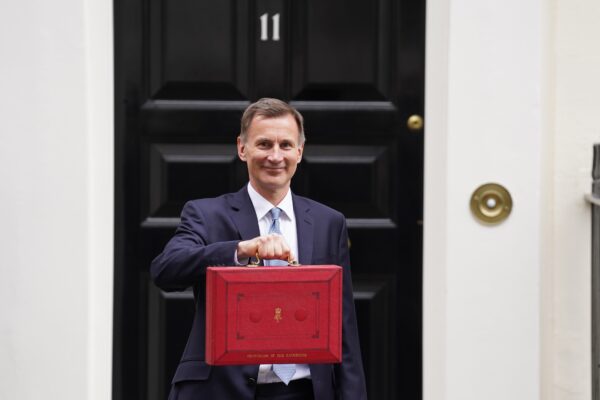 Net-Zero
The UK has legally binding targets of reaching net-zero by 2050.
According to the World Nuclear Association, power plants produce no greenhouse gas emissions during operation, and over the course of its life-cycle, nuclear produces "about the same amount of carbon dioxide-equivalent emissions per unit of electricity as wind, and one-third of the emissions per unit of electricity when compared with solar."
Environmentalism skeptic Ben Pile, co-founder of the Climate Resistance blog and Climate Debate UK, told The Epoch Times by email that he believes that "merely reclassifying nuclear energy will not make it any cheaper, and Hunt's promises to reduce costs lack explanation."
"Hinkley Point C, commissioned by the coalition government, was quickly dubbed 'the most expensive power station in the world' for good reason," he said.
'Anti-Human'
Pile said that nuclear power is a "worthwhile end, but framing it in terms of net-zero is disappointing and will likely misdirect policy and the public conversation."
"We are facing extreme energy supply problems now and in the short and medium future. Nuclear power cannot fill that gap. And while the policy conversation is dominated by climate alarmism, not about the necessity of affordable, abundant, and reliable energy, Britain will be doomed to run on a near empty tank," he added.
He said that the "green agenda demands we reduce our production and consumption of everything."
"It doesn't see energy as a good thing, but a thing that must grudgingly be delivered, and people's use of it constrained. Until that ideological prejudice is eliminated, there cannot be a sensible discussion about how to produce energy for society, because its priorities are simply wrong and anti-human," said Pile.
Reacting to the announcement, Professor Adrian Bull of the Dalton Nuclear Institute at the University of Manchester said: "The chancellor's words on nuclear give a positive message, but it's more like a greatest hits compilation from the past, rather than anything new.
"Confirming nuclear's environmental credentials will certainly help attract investment—but it's only stating the obvious. Nuclear is as low-carbon as renewables and should always have been treated that way.
"He's announced Great British Nuclear—which is about the fourth time it's been announced. What we need is to see it actually come into being, and to see a clear plan of what it will do.
"And—bizarrely—he launched the first competition for SMRs. Maybe there is nobody left in Whitehall who remembers the (abortive) SMR competition which George Osborne launched back in 2015, promising an SMR in the UK in the 2020s.
"Let's just hope this one actually leads to something," he added.
Greenpeace
Environmentalists such as Greenpeace and the Green Party have long opposed nuclear power.
Reacting to the budget news, Caroline Lucas, Green Party MP for Brighton Pavilion, said, "Just when we needed a solar rooftop revolution, an unblocking and upscaling of renewables, a major street-by-street mass insulation programme, and a commitment to invest in our totally neglected, sewage-filled rivers and seas, we get too slow, too expensive and too dangerous nuclear white elephants."
In February, Greenpeace took the European Commission to court over its decision to include gas and nuclear energy in the EU's list of investments that can be labelled as "green."
"The Commission incorrectly assumes that nuclear energy is an enabling activity for the energy transition, when in fact it leads to the curtailment of renewables," it said at the time.
The Epoch Times has contacted the UK government for comment.
PA Media contributed to this report.