A £40 million pilot scheme will be launched to increase access to the Wegovy weight-loss drug in the National Health Service (NHS), it has been announced.
The two-year pilot will explore ways to make obesity drugs easier to access, the Department of Health and Social Care (DHSC) said on Wednesday.
The scheme is part of the government's attempt to tackle obesity, which is one of the leading causes of health conditions such as cardiovascular disease, diabetes, and cancer, and costs the NHS £6.5 billion a year.
Announcing the plan, Prime Minister Rishi Sunak said: "Obesity puts huge pressure on the NHS.
"Using the latest drugs to support people to lose weight will be a game-changer by helping to tackle dangerous obesity-related health conditions such as high blood pressure, diabetes, and cancer—reducing pressure on hospitals, supporting people to live healthier and longer lives, and helping to deliver on my priority to cut NHS waiting lists."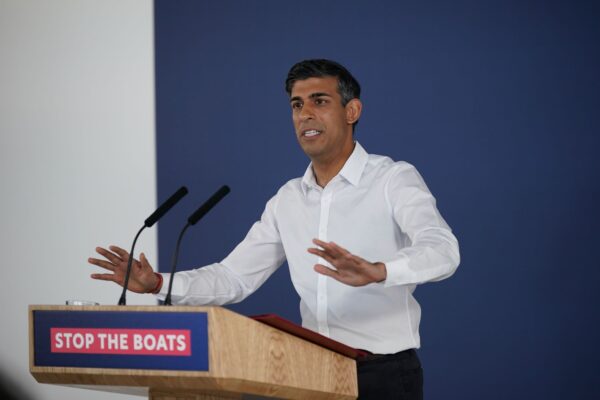 Widening Access
Earlier this year, the National Institute for Health and Care Excellence (NICE) gave approval for the use of appetite suppressant Wegovy for adults with a body mass index of at least 35 and one weight-related health condition—such as diabetes or high blood pressure.
But NICE advised that Wegovy should only be available via specialist weight management services, which are largely hospital-based. This would mean access to Wegovy is currently restricted to only around 35,000 people when tens of thousands more could be eligible.
The pilot programme will explore how approved obesity drugs can be made available to more people by expanding specialist weight management services outside hospitals. It will look at how GPs could safely prescribe the drugs and how the NHS can provide support in the community or online.
NHS medical director Prof. Sir Stephen Powis said: "Pharmaceutical treatments offer a new way of helping people with obesity gain a healthier weight, and this new pilot will help determine if these medicines can be used safely and effectively in non-hospital settings as well as a range of other interventions we have in place."
Potential Side-Effects
Wegovy, manufactured by Novo Nordisk from Denmark, has become increasingly popular, with more than 100,000 prescriptions written weekly in the United States.
The drug is also popular with celebrities—Twitter and Tesla tycoon Elon Musk has said he uses it to stay in shape.
The market value of Novo Nordisk has risen by more than 140 percent since the firm launched Wegovy in the United States in June 2021.
Wegovy was approved for NHS use after research suggested users could shed more than 10 percent of their body weight.
But the use of prescription drugs for weight loss remains controversial, as these medications can have potential risks and side effects, such as undesirable muscle loss.
'Significant' Economic Benefits
Health Secretary Steve Barclay said on Wednesday that the weight-loss jab could bring about "significant" economic benefits.
He told the BBC that various health "challenges" linked to obesity, such as staff sickness and musculoskeletal (MSK) conditions, have an impact on the labour market.
But he insisted the primary focus of the pilot scheme is to tackle obesity and its related health issues such as type 2 diabetes and cancer.
He said: "The chief medical officer, working with the chief economist in the Treasury, will be looking at what wider benefits there may be because there could be significant benefits economically, but the primary focus of the pilots is on tackling health conditions such as diabetes, such as mental health, such as cancer, that we know are linked to obesity."
PA Media contributed to this report.