The UK will provide Challenger 2 tanks to Ukraine, becoming the first Western power to offer main battle tanks in support of the country's resistance against the Russian invasion, British Prime Minister Rishi Sunak has confirmed.
Sunak made the pledge on Saturday morning during a phone conversation with Ukrainian President Volodymyr Zelenskyy, who thanked the UK for sending the "right signal to other partners."
Ukraine has long been asking for supplies of main battle tanks to bolster its defences against Russia, but its Western allies have been reluctant to satisfy the demand amid fears of further escalations.
Earlier this week, Western officials warned that Ukraine would not be able to take back significant territory from Russia without an increase in fighting power, including tanks and other heavy armour.
Sunak's formal offer follows reports that he was preparing to sign off on sending four British Army Challenger 2 tanks to eastern Europe immediately, with eight more to follow shortly afterwards.
Downing Street has not yet confirmed the exact number of tanks it will send to Kyiv.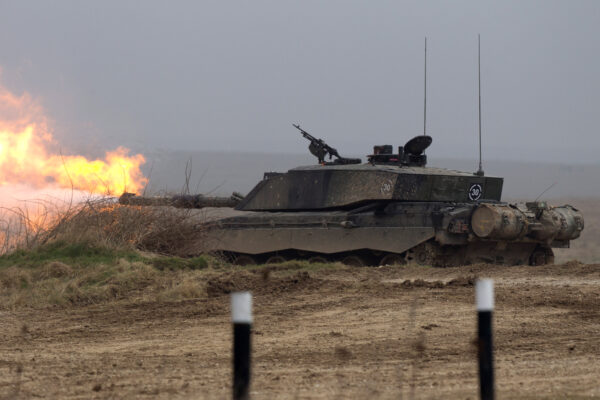 'Seize on This Moment'
Following Saturday's phone call between Sunak and Zelenskyy, a Number 10 spokesperson said: "The leaders reflected on the current state of Russia's war in Ukraine, with successive Ukrainian victories pushing Russian troops back and compounding their military and morale issues. They agreed on the need to seize on this moment with an acceleration of global military and diplomatic support to Ukraine."
Sunak outlined the UK's "ambition" to intensify its support to Ukraine, including through the provision of Challenger 2 tanks and additional artillery systems, the spokesperson said, adding that the two leaders "welcomed other international commitments in this vein, including Poland's offer to provide a company of Leopard tanks."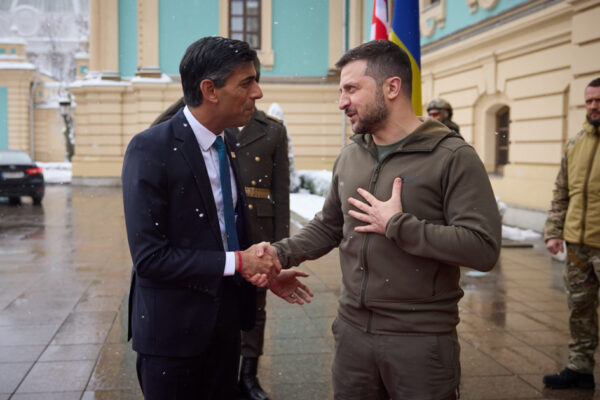 Sunak stressed that the UK government would be "working intensively with international partners to deliver rapidly the kind of support which will allow Ukraine to press their advantage, win this war, and secure a lasting peace."
Following the call, Zelenskyy wrote on Twitter that he had thanked the UK for making decisions "that will not only strengthen us on the battlefield, but also send the right signal to other partners."
The UK government's offer has been supported by the main opposition Labour Party.
Labour's shadow defence secretary John Healey said: "Modern tanks are crucial to Ukraine's efforts to win its battle against Russian aggression. The government has Labour's fullest backing for military assistance to Ukraine."
But he urged ministers to "move beyond ad hoc announcements and set out a plan for military, economic, and diplomatic support through 2023 and beyond," so as to "help reassure Ukrainians that Britain will stand with them for as long as it takes and signal to Putin that things will get worse not better for Russia."
Intensifying Support
Ukraine has been asking its Western allies for months to provide heavier weapons to bolster its defences against Russia since the war began in February 2022.
On Jan. 3, Zelenskyy said that Russia is mobilising for a new major offensive early this year. "There is no rational reason why Ukraine has not yet been supplied with Western tanks," he said.
So far, the Germans and the Americans have been reluctant to fulfil demands by Ukraine to send heavy Leopard 2 and M1 Abrams battle tanks.
There have been concerns within Nato that supplying tanks could be regarded by the Russians as a further escalation of the conflict.
But Germany, France, and the United States all indicated last week they would provide armoured vehicles to Ukraine.
The Biden administration's $2.85 billion drawdown assistance package, announced on Jan. 6, includes a shipment of M2 Bradley armoured infantry fighting vehicles.
Deputy Assistant Secretary of Defense for Russia, Ukraine, and Eurasia Laura Cooper said on Jan. 6 that 50 Bradley vehicles would be fielded in Ukraine over the coming months.
In addition, Germany and the United States both pledged to send Patriot missile batteries to Ukraine, according to a joint statement, after a call between President Joe Biden and German Chancellor Olaf Scholz on Jan. 5.
The Germans also plan on delivering Marder armoured personnel carriers and training Ukrainian soldiers on how to use them.
The French Defence Ministry said on Jan. 5 that it would arrange delivery of AMX-10 RC wheeled tank destroyers to the Ukrainian military.
However, the Kremlin said that the deliveries of armoured vehicles to Kyiv would not change the end result of the conflict.
"This supply will not be able to change anything," Kremlin spokesman Dmitry Peskov told reporters at a press conference on Jan. 9.
"These supplies can only add to the pain of the Ukrainian people and prolong their suffering. They are not capable of stopping us from achieving the goals of the special military operation," said Peskov.
PA Media contributed to this report.