UK to Send Emergency Alerts via Mobile Network
[ad_1]

UK residents will get a loud siren-like alert from their smartphones on April 23 as the government tests its new emergency alert system.
Launching the system on Sunday, the government said the system has already been tested in East Suffolk and Reading, and is now ready for a nationwide test.
The government said similar systems have been "widely credited with saving lives" in other countries including the United States, Canada, the Netherlands, and Japan, in incidents such as severe weather events.
"In the UK, alerts could be used to tell residents of villages being encroached by wildfires, or of severe flooding," the Cabinet Office said.
The sound of the alert will last for up to 10 seconds and accompanied by a vibration.
After the alert, the message will remain on the home screen. Phone users will have to acknowledge the alert before they can use other features of their phone.
In the event of an emergency, the message may include telephone numbers or website links containing further information.
Chancellor of the Duchy of Lancaster Oliver Dowden told Sky News on Sunday that people will "only receive that in the most serious of circumstances and it will warn you about action that you need to take."
The system only works on 4G and 5G networks, which are used by most smartphones. Those who don't have a compatible device will be informed about an emergency via other means, the government said.
Residents won't receive the alerts if their device is turned off or in airplane mode. They can also opt out of the system in their phones' settings, but the government recommends people keep the "potentially life-saving" feature on.
The government also said the system works by using cell towers in affected areas to send alerts to devices that are connected to the tower at the time and therefore doesn't require the collection of location and other personal data on phones.
Launching the system, Dowden said the system will strengthen the UK's national resilience.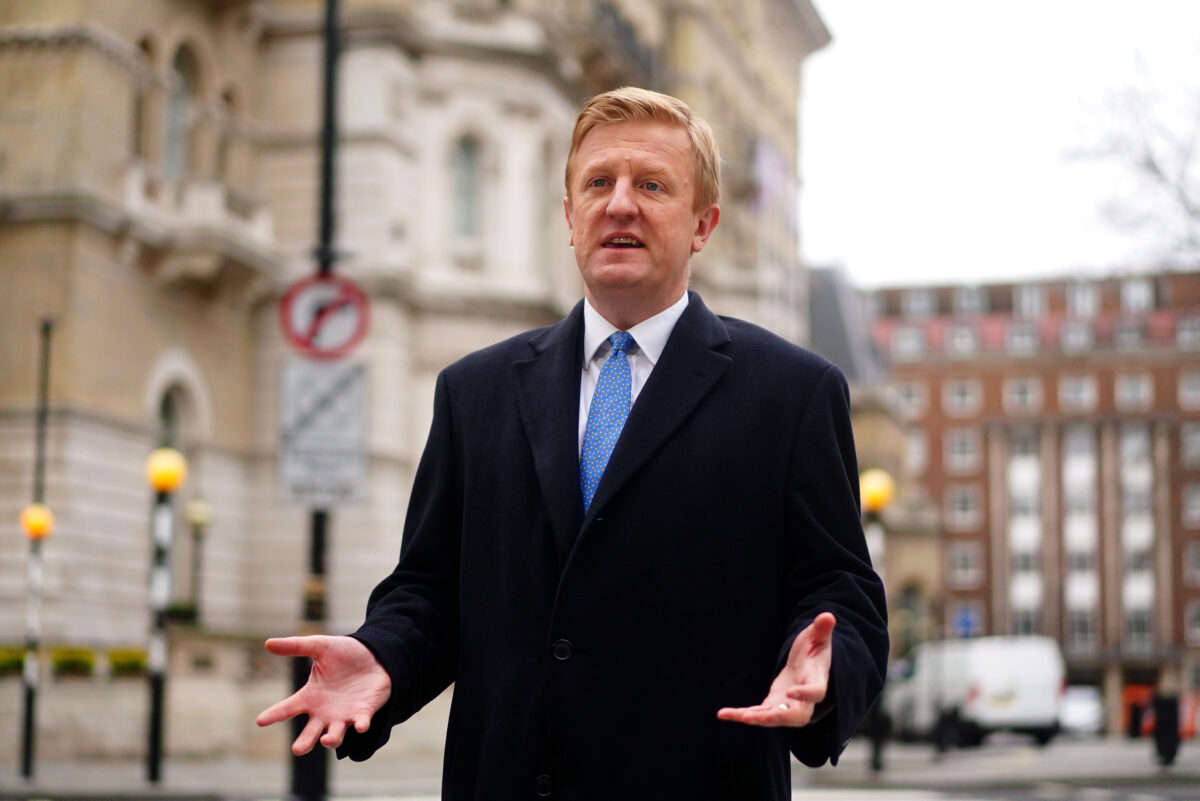 "It will revolutionise our ability to warn and inform people who are in immediate danger, and help us keep people safe. As we've seen in the [United States] and elsewhere, the buzz of a phone can save a life, he said in a statement.
The scheme could eventually be expanded to cover terrorist incidents, but officials acknowledged that much more information about how the alerts system operates in the UK would be needed before that could happen in response to a fast-moving attack.
"In respect of terror incidents, it will depend on the operational advice that we received from the counter-terror police and others because clearly, it would depend on the circumstances," Dowden told Sky News' "Sophy Ridge on Sunday."
"It may well not be appropriate to have a loud alert in some situations. In others, it could be the case that a warning is required," he added.
National Fire Chiefs Council chairman Mark Hardingham said he is looking forward the having the alerts available.
"We've seen this type of system in action elsewhere across the world and we look forward to having the facility here in the UK—by working together with fire services and partners, we want this system to help us to help you be as safe as you can if a crisis does hit," he said.
Caroline Douglas, executive director for flood and coastal erosion risk management at the Environment Agency's flood and coastal erosion risk management, said: "Being able to communicate warnings in a timely and accurate manner during incidents is really important to help people take action to protect themselves, their families, and their neighbours.
"This year is the 70th anniversary of the 1953 east coast surge, one of the worst flood events in our recent history which saw over 300 people perish in England—while our ability to warn and inform has come on leaps and bounds since then, Emergency Alerts is a fantastic addition to our toolbox that we can use in emergency situations."
PA Media contributed to this report.
[ad_2]

Source link