Ukrainian Envoy to Australia Rejects Peace Deal With Russia, Welcomes Australia's Military Assistance
Kyiv's newly appointed ambassador to Australia has rejected any prospect of peace negotiations with Russia, urging Western countries, including Australia, to provide more weapons and heavy artillery to Ukraine to fend off attacks.
Ambassador Vasyl Myroshnychenko accused Russian forces of committing war crimes after hundreds of Ukrainian civilians were found dead with at least one mass grave found in Bucha.
The number of civilian casualties is "staggering" once the Russians have retreated, he added, describing Russia's invasion of Ukraine as "heinous crimes against humanity."
"Mass graves of people, dead bodies lying around, people with their hands ties and they were executed, many witnesses, women were raped, and then killed, some have survived," Myroshnychenko told Sky News on April 6. 
"I don't see any prospect of a peace deal in the foreseeable future—I think we need to keep on fighting."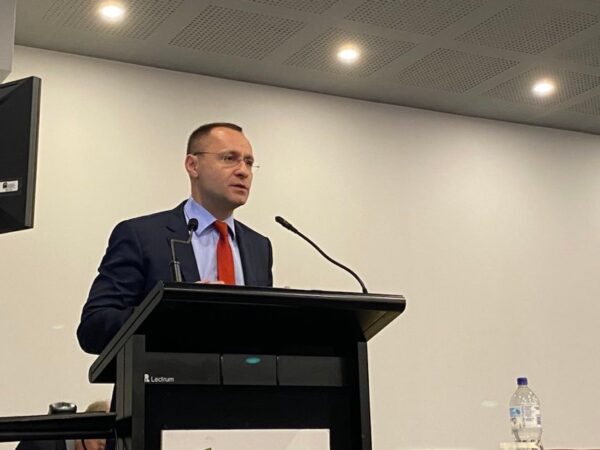 The ambassador also lambasted Russian soldiers for stealing from Ukrainian homes and sending the items back to Russia. Some of the looted goods include televisions, clothing, iPhones, e-scooters and washing machines.
The ambassador echoed wartime President Volodymyr Zelenskyy's call to remove Russia from the United Nations Security Council, noting that Russian President Vladimir Putin is taking the country "to those last days of the Soviet Union when it was collapsing."
"There is no opposition in Russia, there is nobody there to oppose him," Myroshnychenko said.
"He's done so much damage for the country and I don't know when Russia will be able to repair that reputation."
In response to a direct request from Zelenskyy, Australian Prime Minister Scott Morrison said on April 1 the commonwealth would send over a minimum of four Bushmaster armored troop carriers to Ukraine via its C-17 planes to boost the country's resistance against the Russian forces.
Ukrainian ambassador welcomed Australia's assistance, but added that more was needed to "get rid of Russian presence in Ukraine."
"I'm calling the West to provide heavy weapons to Ukraine, air defense system anti-ship missiles, armored personnel vehicles, tanks, planes, any kind of weapons that we can get," he said.
"Even offensive weapons because any of the weapons that we can use on the territory of Ukraine are for defensive purposes and this is what we are asking Australia as well."
The White House announced it will impose new sanctions against Russian banks, officials and investment on Wednesday alongside the G7 and European Union, in part due to the war crime uncovered in Bucha.
Myroshnychenko said the resilience in his country was very high after eight years of Russia waging war against Ukraine, starting when it annexed Crimea in 2014.
"We are protecting our democracy, our freedom, and our choice to pursue European integration," he said.
"That's what Ukrainian people want. All the Russian speakers, Ukrainian speakers, Orthodox, Catholics, Jews and Muslims are united in fighting the Russian enemy."
AAP contributed to this report.