UK's Biggest Semiconductor Plant Acquired by Chinese Owned Company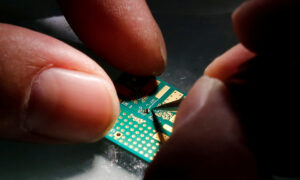 A Chinese-owned company said on Monday that it had acquired the UK's largest manufacturer of silicone and semiconductor. The deal has triggered warnings from MPs.
Nexperia, a Dutch-based semiconductor manufacturer wholly owned by China's Wingtech Technology, confirmed on Monday that it had obtained 100 percent ownership of Welsh semiconductor plant Newport Wafer Fab (NWF), and will rename it "Nexperia Newport."
British MP and chair of the Parliament's Foreign Affairs Select Committee Tom Tugendhat has previously warned the government about the deal.
In a letter (pdf) to Secretary of State for Business, Energy, and Industrial Strategy (BEIS) Kwasi Kwarteng last month, Tugendhat said his colleagues on the Foreign Affairs Committee had raised "serious concern" over the potential acquisition.
"I must stress again that having the UK's leading 200mm silicon and semiconductor technology development and processing facility being taken over by a Chinese entity—in my view—represents a significant economic and national security concern," Tugendhat wrote in the letter.
"With the world experiencing a shortage in semiconductor production and companies and countries competing over the limited supply that exists, it is crucial that the UK protects its strategically valuable manufacturing resources," he added.
Tugendhat urged the Minister to reconsider his previous advice to NWF that "the completion of the company's takeover by Nexperia would not trigger a call-in under the National Security and Investment Act."
Citing Wise Road Capital's acquisition of South Korean semiconductor manufacturing company MagnaChip and Shenzhen Investment Holdings' attempt to take over Italian semiconductor company LPE, Tugendhat argued that UK's allies are "treating self-sufficiency in semiconductor supply chains as a national security imperative."
The Epoch Times contributor, international security expert Anders Corr has also called for the deal to be "canceled immediately, as it gives Beijing an important toehold in British high-technology manufacturing and design."
CNBC on Friday reported on the then-impending deal, citing unnamed sources.
A spokesperson from the UK government told the outlet that it didn't consider it appropriate to intervene at the time, but would continue to "monitor the situation closely" and would not hesitate to use its powers under the Enterprise Act "should the situation change."
The National Security and Investment Act, which came into effect at the end of April, is designed to deal with national security risks arising from the acquisition of control over certain types of entities and assets.
The Epoch Times has reached out to the BEIS for comment.