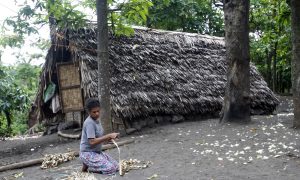 More than 250,000 people in Vanuatu have been affected, and thousands of homes have been destroyed, after back-to-back tropical cyclones struck the Pacific Islands nation earlier this month.
Vanuatu was hit by two tropical cyclones—Cyclone Judy and Kevin—on March 1 and March 3, which brought torrential rains and strong winds. The two cyclones also triggered a 6.5-magnitude earthquake on March 3.
No casualties have been reported so far.
A week has passed since the cyclones hit, and most communities in Vanuatu remain without power, the International Federation of Red Cross and Red Crescent Societies (IFRC) said on Tuesday.
Hundreds of people in Vanuatu are still looking for shelter in evacuation centers, and access to clean drinking water has been severely impacted, according to IFRC.
"Most houses have suffered damages while some people have had their houses completely blown away. That just shows the scale of damages caused by these two cyclones. It was massive," Vanuatu Red Cross Secretary-General Dickinson Tevi said.
The United Nations said that nearly 80 percent of the country's population had been affected, citing Vanuatu National Disaster Management Office data. Shefa and Tafea provinces were among the hardest-hit areas.
Save the Children claimed that about 48,818 students in the Pacific Islands nation would experience disruption to their education as a result of the twin disasters.
"The last week has been incredibly difficult for many families in Vanuatu. While they are receiving support from the government and partner organizations like ours, the needs are great, and the logistics are challenging," the charity's Pacific manager Kim Koch said.
Coffins Surfaced
Six coffins were reportedly visible on the surface of graves in the Port Vila City Council cemetery following the twin cyclones. Some have criticized the municipal staff for their lack of effort in maintaining the cemetery.
The Port Vila City Council said it was unaware of any damage to graves. It explained the coffins surfaced owing to heavy rainfall during the cyclone, Vanuatu's news agency Daily Post reported on March 9.
The council further explained that this was not the first time graves had opened under such weather and assured the public that the coffins would be reburied.
International Assistance
New Zealand announced on March 5 an initial package of assistance to Vanuatu consisting of $150,000 in financial assistance and humanitarian relief supplies, including kits for temporary shelters and sanitary kits.
New Zealand's Foreign Affairs minister Nanaia Mahuta said the financial assistance would allow the New Zealand High Commission to respond "rapidly" to requests from the Vanuatu government.
"The full extent of the impact of the cyclones is still to be assessed," Mahuta said in a statement.
Beijing reportedly provided Vanuatu $500,000 in financial assistance following the twin disasters. The Pacific Islands nation also received $100,000 financial aid from the Chinese Red Cross Society.
Australia provided support to Vanuatu by deploying its HMAS Canberra ship on March 5 and sending a 12-person assessment team, along with emergency supplies like water purification supplies and other essential items for impacted communities.
UNICEF Pacific said it will be working with the Vanuatu government to respond to the urgent needs of families affected and ship emergency supplies to Vanuatu from Fiji to support disaster relief.
"We are deeply concerned by the impact of two devastating cyclones on vulnerable children and families in Vanuatu," UNICEF Pacific said on Twitter.