US and Allies Not Cutting Off Russia from SWIFT Payment System, Keep It as Nuclear Option
President Joe Biden said Thursday the United States and its international allies have decided not to cut Russia off from the SWIFT international payments system as punishment for invading Ukraine, though the measure has been left on the table as a last resort in case the situation escalates.
Biden told a press briefing on Feb. 24 that Russia would not be frozen out of SWIFT, the messaging system banks use to settle cross-border payments and that is a key mechanism for financing international trade.
The president said the sanctions imposed on five Russian banks in response to the Ukraine invasion were at least as punishing as a SWIFT cutoff.
"It is always an option," Biden said of the ban. "But right now, that's not the position that the rest of Europe wishes to take."
Biden's remarks came as Russian forces pressed forward with a multi-pronged invasion of Ukraine that Russian President Vladimir Putin has called a "special military operation" to demilitarize and neutralize Ukraine as a claimed NATO-aligned threat. Western leaders have denounced Putin's military action as a baseless act of aggression.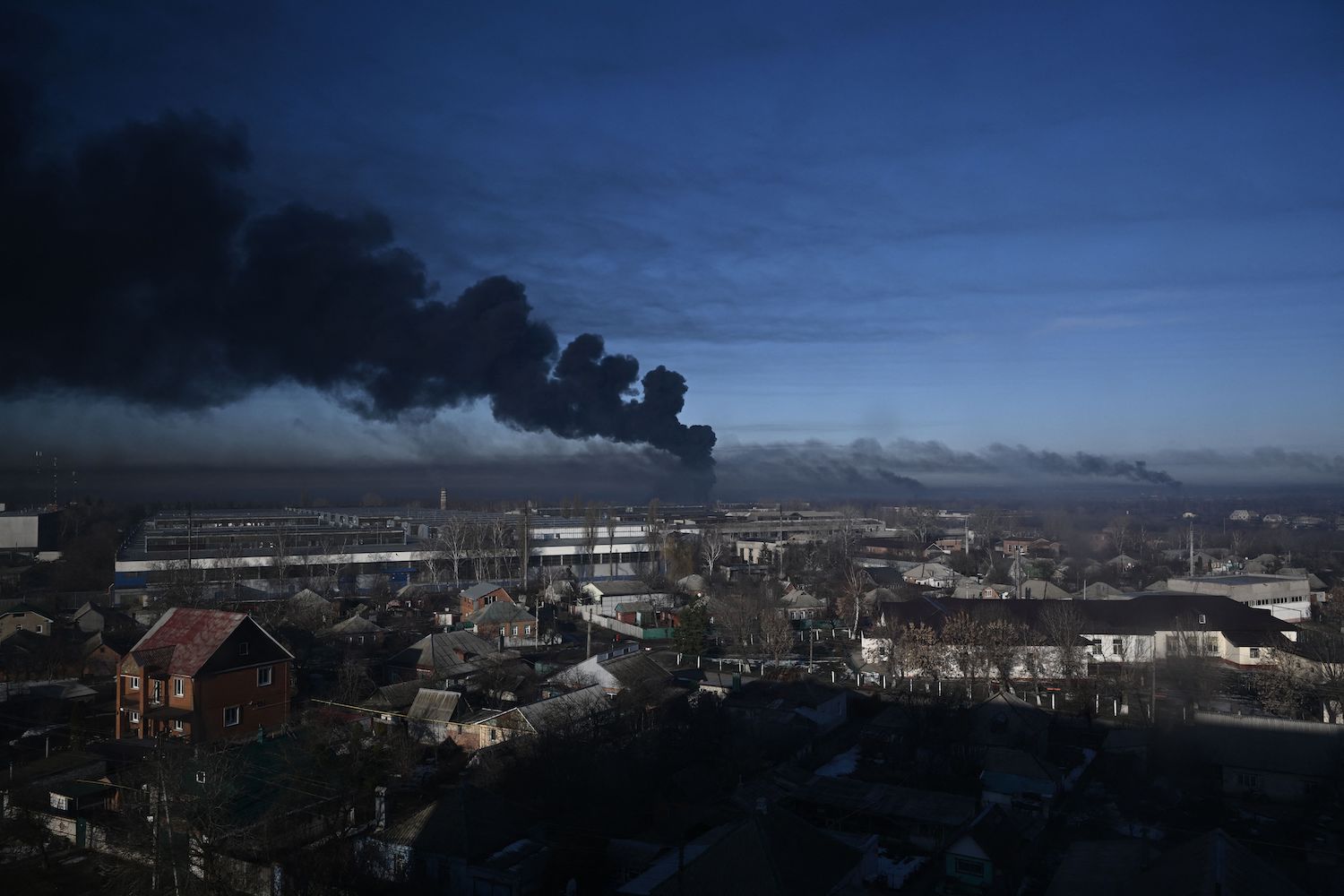 While Western leaders have agreed on a series of tough punitive sanctions, they are divided over cutting Russia off from SWIFT, a move that would restrict Russia's access to global financial markets.
A SWIFT ban would make it harder for Russian companies to get paid for goods they export to other countries and they'd find it more difficult to invest overseas or borrow from foreign lenders.
Financier and activist Bill Browder, who lobbied for Congress to pass the Magnitsky Act, a measure to punish Russian human rights violators, told The Independent that removing Russia from SWIFT would be "the one thing that would really change Putin's calculus."
But removing Russia from SWIFT would also make it harder for foreign buyers of Russian oil and gas to settle transactions, potentially driving energy prices higher. Discussions around the ban come at a time of elevated inflationary pressures in many of the world's economies, driven in large part due to surging energy prices.
British prime minister Boris Johnson reportedly pushed hard to persuade fellow G7 leaders on a Thursday call to remove Russia from SWIFT, though he stressed the need for Western leaders to present a united front on sanctions, according to a Financial Times report.
Germany and France are among the reluctant. German Chancellor Olaf Scholz said on Thursday that a SWIFT ban should be reserved as a nuclear option if the situation escalates, while French Finance Minister Bruno Le Maire said on Friday that the SWIFT cutoff remained on the table, but only as a last resort.
"It is very important that we agree those measures that have been prepared—and keep everything else for a situation where it may be necessary to go beyond that," Scholz told reporters as he arrived at an emergency summit in Brussels, Belgium, to discuss the European Union's response to the Russian invasion.
Ukraine's foreign minister, Dmytro Kuleba, penned a fiery tweet over the reluctance of Western leaders to remove Russia from SWIFT.
"I will not be diplomatic on this," he wrote. "Everyone who now doubts whether Russia should be banned from Swift has to understand that the blood of innocent Ukrainian men, women and children will be on their hands too. BAN RUSSIA FROM SWIFT."
Calls to remove Russia from SWIFT aren't new, with the UK pushing European leaders to consider the move when Russia took over Crimea in 2014.
In 2019, Russia's then prime minister Dmitry Medvedev said excluding Russia from SWIFT would amount to a major escalation, equivalent to a "declaration of war."