US Embassy in Mexico Issues 'Security' Warning Over Potential Violence
The U.S. Embassy in Mexico issued a "security alert" to Americans about potential cartel violence after the arrest of a top drug lord in Jalisco state months after a similar warning was issued amid a wave of cartel-related violence across the country.
"The State of Jalisco has issued a state-wide Security Alert and increased security presence in the Guadalajara metropolitan area following the reported arrest of a cartel member. There is a potential for conflicts between police and criminal elements," the embassy said in its bulletin, dated Dec. 20.
Without providing many details, the embassy called on Americans to be aware of their surroundings, keep a high level of vigilance, and "keep a low profile." It also urged citizens to monitor local media for updates and "follow directions from local officials."
Several days ago, Mexico's military reportedly arrested Antonio "Tony Montana" Oseguera Cervantes, the brother of the boss of the Cartel Jalisco New Generation criminal organization. Local media reported he was arrested in Tlajomulco, near Guadalajara in Jalisco state.
Mexico's military has said Antonio Oseguera Cervantes was involved in money laundering for the organization, purchasing weapons, and coordinating attacks against other cartels.
His arrest "represents a forceful blow to one of the criminal organizations in the country, since he is considered within its structure as one of the alleged main logistical and financial operators and generators of violence," the Mexican military said in a statement. While Oseguera Cervantes's name wasn't specifically mentioned, local media reported that he was the individual arrested by Mexican authorities.
Cervantes was captured in a town on the outskirts of Guadalajara in a joint operation with the army, national guard, and other authorities, the armed forces said in a statement. Oseguera was detained in the early morning and was taken to a detention center, according to Mexico's security ministry.
His brother, Nemesio, remains at large and the U.S. Drug Enforcement Administration is currently offering a $10 million reward for information leading to his arrest. Also known as "El Mencho," he's one of the few longterm cartel leaders in Mexico to have evaded capture while leading the gang's continent-spanning empire.
Cartel Jalisco New Generation is accused of smuggling massive quantities of drugs, increasingly including the synthetic opioid fentanyl, into the United States. More than 71,000 people died from synthetic opioid-related overdoses in 2021, according to U.S. data.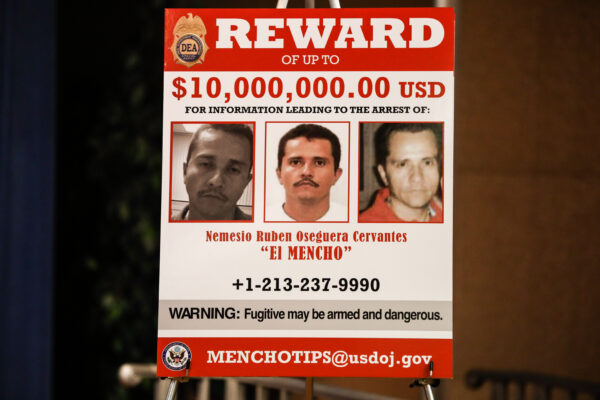 Nemesio Oseguera's wife was arrested last year for a slew of crimes related to the cartel. His daughter pleaded guilty in a U.S. court to carrying out business transactions for the cartel in 2020.
Prior Alerts
It's not the first time the U.S. Embassy issued a warning following bouts of violence associated with the Cartel Jalisco New Generation. In August, the cartel made a series of threats in Baja California after captured members were arrested, prompting embassy alerts.
"Be warned. As of Friday at 10 p.m. through Sunday at 3 a.m. we're going to create mayhem so the [expletive] government frees our people. We're the Jalisco New Generation Cartel, we don't want to hurt good people but it's best they don't go outside, we're going to attack anyone we see on the streets on these days," the cartel said at the time, according San Diego affiliate station KSWB-TV and other media outlets.
Weeks before that, drug cartel members targeted convenience stores across Mexico, according to the Mexican Chamber of Commerce. "Business leaders are very concerned about the climate of insecurity that exists in some areas of our country and we need to have the guarantee of the full application of the rule of law," Mexico's Chamber of Commerce stated.
Reuters contributed to this report.