Trilateral cooperation between the United States, Japan, and South Korea is crucial to effectively respond to security challenges in the Indo-Pacific, particularly North Korea's nuclear threat, the State Department said.
Speaking at the Foreign Press Center on Friday, State Department's spokesperson Ned Price said that bolstering trilateral cooperation will be a focal point of the U.S.-Japan discussions next week.
The two allies will hold a two-plus-two meeting between their foreign and defense ministers in Washington on Jan. 11, ahead of Prime Minister Fumio Kishida's summit with President Joe Biden on Jan. 13.
Yoon and Biden are expected to discuss regional and global issues, including North Korea's unlawful ballistic missile programs, Russia's war against Ukraine, and China's tensions with Taiwan.
"The bilateral relationship we have with Japan is indispensable to our shared vision of a free and open Indo-Pacific, but there are certain challenges—and the DPRK is at the top of that list—where it's especially important for us to have an effective trilateral relationship as well," he said, using North Korea's official name, the Democratic People's Republic of Korea (DPRK).
Price said the Biden administration sought to "revitalize" the trilateral format because they believed that the challenges in the Indo-Pacific would benefit from "a seamless and unified trilateral approach."
"It's a topic of conversation with our ROK allies, just as the threat that the region—Japan, the ROK, other allies, and partners—face from the DPRK in the context of next week's discussions," he added, using South Korea's official name, the Republic of Korea (ROK).
Price described North Korea's "systematic human rights abuses" as a "deep concern" for the United States, though it imposed sanctions to thwart North Korea's nuclear weapons program, money laundering, and cyber activities.
"But I can tell you that when we look at our approach to the DPRK, we are taking into account the full array of challenges that we see from that regime and within that regime," he told reporters.
"We know that they are under immense suffering because of famine, because of malnutrition, but also because of the repression that their own government is inflicting upon them. And it's our goal in the first instance not to add to that."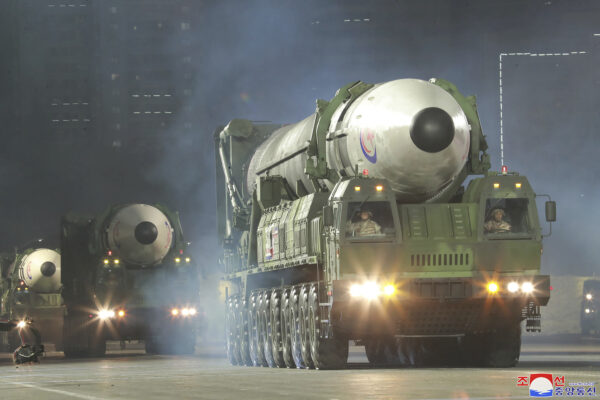 North Korea fired an unprecedented number of missiles last year, one of which involved a Hwasong-17, which experts dubbed a "monster missile" capable of striking anywhere in the United States and beyond.
South Korea said it detected five North Korean drones across the Demarcation Line separating the two Koreas on Dec. 26, with one drone briefly entering a 3.7-kilometer (2.2 miles) radius no-fly zone near its presidential office.
Following the incursion, South Korean President Yoon Suk-yeol urged his aides to consider terminating the 2018 inter-Korean military deal if North Korea continued to invade South Korea's territory. Termination of the deal could result in the resumption of live-fire drills along the demarcation line.
Japan, South Korea Mend Ties
North Korea's military provocations have brought South Korea, Japan, and the United States closer together.
In November last year, Kishida held talks with Yoon on the sidelines of the Association of Southeast Nations (ASEAN) summit in Cambodia. The two leaders agreed to resolve "pending issues" between their nations and work together to deter North Korea.
They condemned North Korea's missile tests as a "serious threat" to global security and agreed to implement an early resolution to the wartime forced labor dispute stemming from Japan's colonial rule of the Korean Peninsula between 1910 and 1945.
"At the Japan-ROK summit, I confirmed with President Yoon that we would work together to realize a free and open Indo-Pacific along with the North Korea issue," Kishida told reporters on Nov. 13, 2022.
The two leaders also held a trilateral meeting with Biden in Cambodia, during which they vowed "a strong and resolute response" from the international community if North Korea launched a nuclear attack while urging North Korea to return to diplomacy.
Biden described Japan and South Korea as "critical allies" of the United States, with their relations becoming "more aligned than ever" in the face of North Korea's spate of missile launches.
"This partnership is even more important than it's ever been," he said in the meeting. "We're also deepening our cooperation and collaboration on a range of other challenges."