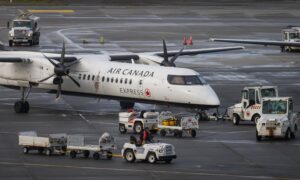 The United States National Transportation Safety Board (NTSB) and the U.S. Federal Aviation Administration (FAA) are investigating an incident involving an Air Canada passenger jet departing from a Florida airport.
The NTSB announced the investigation in a March 6 post on Twitter, after an apparent air traffic control mixup.
On Feb. 16, an Air Canada Rouge Airbus A321 was cleared to take off on runway 14 at Sarasota Bradenton International Airport, at the same time that an American Airlines Boeing 737 jet was being cleared to land on the same runway. It was not stated if more than one air traffic controller was involved in providing the landing and take-off clearances.
There was no collision and no injuries. According to the NTSB, the American jet self-initiated an abort of the planned landing and rejoined the circuit for a "go-around."
The Air Canada jet was flight 1633 headed to Toronto, and the American jet was flight 2172, departing Charlotte for arrival in Sarasota, which is approximately 65 kilometres south of Tampa, on the west coast of Florida.
Air Canada did not respond by press time to an inquiry.
The FAA told CTV News that an air traffic controller advised the American flight crew that a plane on the runway was departing, and there was no risk of collision, as the two aircraft were more than 3,000 feet apart at the time.
Air Traffic on the Rise
According to figures from the Canadian Transportation Safety Board (CTSB), runway incursions and excursions—which are incidents at an aerodrome where vehicles, people, or aircraft are improperly positioned on a runway, or there is an incident or mispositioning involving an aircraft leaving a runway—have risen in the last 12 years.
In 2010, there was an average rate of 5.3 incursions per 100,000 arrivals and departures in Canada, which doubled in 2021 to an average of 10.7. Air passenger traffic has also risen.
According to statistics from the International Civil Aviation Organization (ICAO), since 1995, global air passenger traffic has increased at an average annual growth rate of 5.0 percent, steadily on the rise since 1950.
There was a decline in flights due to lockdowns from COVID; however, the total number of passengers on scheduled services increased 3.6 percent from 2018 to 4.5 billion in 2019. ICAO predicts that number will grow to about 10 billion by 2040, with the number of departures projected to rise to roughly 90 million, also by 2040.
In 2019, there were 115 aircraft accidents involving commercial air travel, up from 98 in 2018, with a global accident rate of 3.0 accidents per million scheduled departures.
"Every year, there are millions of successful takeoffs and landings on Canadian runways," said a November CTSB air transport safety report, noting there had been no recent collisions to a runway incursion in Canada, but they remained a "global concern."