VANCOUVER—Vancouver Police say they have launched an investigation into an incident at a Transgender Day of Visibility event which turned violent in the city's Grandview Park on March 31.
The announcement, posted April 1 on the the police force's Twitter account, comes after widely circulated videos posted on social media show Chris Elston, who holds signs opposing puberty blockers for children, get attacked and beaten at the March 31 event. Police are seen in the video coming in after the attack to disperse the crowd.
"I got cut up and my back was spasming last night because I landed hard on my tailbone, but it's doing a little better now," Elston said in an interview with The Epoch Times.
Elston posted videos of the attack on his social media on the same day, saying the police at the site "did nothing" while he was getting attacked. Retweeting the police force's announcement of investigation the next day, he thanked his supporters for "putting pressure on the VPD [Vancouver Police Department]," but said he'll believe the police's claim of investigation if he sees results.
The Epoch Times contacted the VPD for comment but didn't hear back.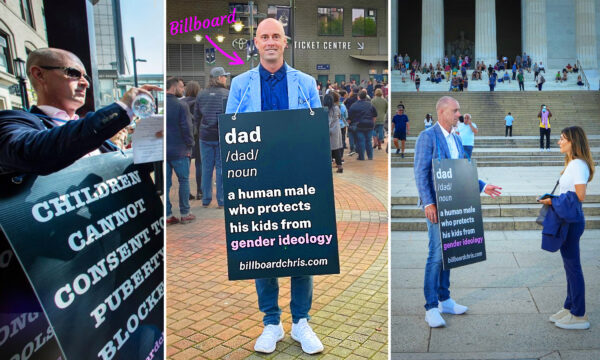 In a series of tweets, Howard Chow, deputy chief of VPD, said on April 1 that the decision to not make arrests at the time of the incident doesn't mean that police won't be making arrests at a later time.
"Our full investigation into the matter will determine the outcome of criminal charges. This will involve different camera angles, witness accounts, video reviews, etc.," he wrote.  "Sometimes, jumping in and arresting one or two at the moment will only incite or inflame the situation."
VPD said in its April 1 Twitter announcement that it supports peaceful assembly and protest, "but we will also hold people accountable for acts of violence and criminal behaviour."
Attack
A video of the altercation posted on social media shows Elston, who also refers to himself as "Billboard Chris," giving a media interview while several people holding transgender flags surround him and yell obscenities. Shortly afterward, one can be seen striking him, hitting him in the throat, before throwing him to the ground, followed by police moving in.
In another video Elston posted to his Twitter, a Vancouver police officer is shown suggesting that the altercation was equal from both parties, saying, "When we get into people's faces and they get into our faces, it doesn't really matter who does the first punch, it's considered a consensual fight."
Elston tells the officer in the video that he had been walking away from the people who were acting aggressive towards him so he could do a media interview, but they kept surrounding him, "while the police do nothing," and that it was him who got assaulted.
The officer tells him, "you have the right not to be here," to which Elston responds, "I have the right to be here," suggesting that it's within his Charter rights.
Another video at the site shows a man approaching the same officer and saying, "Excuse me, did you just say he came here to incite violence by forcing his opinion on people?" The officer responds, "Yes."
'Canada Has Always Been a Problem'
Elston, who lives in the Vancouver area, said he takes his billboards with him about every second day when he's in town, and every day when he's on the road, trying to engage in conversations with people on a topic he thinks shouldn't be ignored. One side of his billboard says, "Children cannot consent to puberty blockers," and the other side states his definition of a father: "Dad: Noun: A human male who protects his kids from gender ideology." He began his Billboard Chris persona in October, 2020.
Since then, Elston said he's been regularly assaulted, spit on, sucker punched, had his arm broken in March, 2021, swarmed by university students in Ottawa, and was even arrested for causing a disturbance because he was wearing his sign.
"Politicians and police just watched as I was punched, painted on, had my signs destroyed," he said. "Since 2021, I've done most of my trips into the United States where I don't run into all these violent problems. But Canada has always been a problem like this, although we are seeing more violence all across the world. That's because people are starting to speak up more about it. No one was speaking up about this two years ago, not in the real world. And now they are and this is the natural result of it."
Despite the attack, Elston said he wouldn't stop having conversations with the public on the issue.
'They Are Escalating'
One week earlier, on March 25, Amrit Birring, founder of the Freedom Party of BC, organized a Surrey, BC rally to protest what he and his supporters say is the province's sexualization of children in BC public schools and altering their understanding of gender. He said his group was met with counter protesters who also engaged with them aggressively with profanity, taunts and attempts at physical altercations, although he said police were professional and effective at preventing the situation from escalating.
"It was scary because when someone is black clad, covered with only their eyes visible, that's not normal," Birring said in an interview. "And they were very aggressive as if they were already under some influence. Hate has been spilled into them, or they are on some type of substance and they are sent there for a single purpose: to create trouble."
Harm Bomm, an activist who has become a fixture at many protests across Greater Vancouver, says he's been frequently accosted at similar events that Elston got attacked. He said he saw the video of what happened to Elston, but isn't deterred from continuing his public stance.
"They are escalating," he said in an interview. But he said it's important to protect children.
"We need to protect children going into the future, to nurture the upcoming generation. They have enough challenges as it is, the sexualization is going to destroy them. It's going to ruin them," he said.
"It's a topic that should unify both sides of the political spectrum."