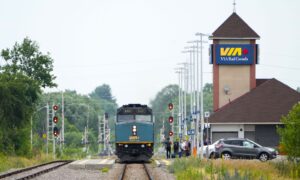 VIA Rail violated the Canada Labour Code when it terminated the employment of a locomotive engineer in January 2022 because of his vaccination status, a federal arbitrator has ruled.
Arbitrator Graham Clarke ruled that VIA Rail, a Crown corporation, didn't have "just and sufficient cause" to fire the engineer for refusing to receive a COVID-19 vaccine, according to Blacklock's Reporter.
Louison Tessier had been an engineer with railway for nearly 20 years when he was dismissed without pay on Jan. 24, 2022, for not having a COVID shot.
The Teamsters Canada Rail Conference, which represented Tessier, challenged VIA's decision shortly after, citing the union's contract that said no member could be fired "without a fair and impartial hearing."
In his case ruling, Clarke wrote that VIA had "decided on its own initiative to add disciplinary consequences for non-vaccinated employees" and said there were no "new recommendation from public health authorities" at the time that supported the company's reasons for dismissing Tessier.
"VIA never explained why on January 24 it was necessary to immediately terminate Mr. Tessier's employment rather than keep him on leave without pay," Clarke wrote.
"The policy was unreasonable."
Clarke ordered Via Rail to rehire Tessier and to remove from his employment file any reference to his being fired by the company in January 2022.
However, the ruling did not include any order for VIA to compensate Tessier pending negotiations between his union and the railway.
Federal Vaccine Mandates
In November 2022, a group consisting of hundreds of federal employees launched a legal challenge of Ottawa's COVID vaccine mandate, which went into effect in October 2021 and was suspended in June 2022.
The government's mandate required that all federal workers either get two vaccine doses or be suspended without pay unless they obtained exemptions approved through the policy.
Launched by Quebec-based group United Servants, the challenge against the mandate seeks to obtain a court ruling that will "make it impossible for the government to ever again implement" a policy such as its previous vaccine mandate, according to the group's coordinator, Bernard Desgagné.
When it suspended the mandate in June 2022, the government noted the possibility of reintroducing it should "scientific evidence" point to a need for further public health measures.
The Treasury Board of Canada said at the time that over 2,100 federal employees, which represented less than 2 percent of the federal workforce, had been put on leave without pay for either refusing to disclose their vaccination status or to get two COVID shots while the mandate was in place.
Isaac Teo contributed to this report.