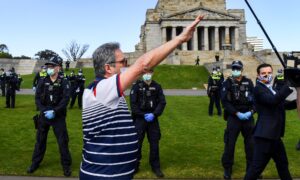 Holocaust survivors are calling on the Victorian premier to ban the Nazi salute, saying the gesture brings back the memories and pain of millions of Jewish people murdered.
The push for change on International Holocaust Remembrance Day follows a spate of recent incidents in the state – among them, neo-Nazi leader Thomas Sewell giving the salute outside court in December, the Anti-Defamation Commission said.
More than 20 white supremacists were also seen doing the salute on Elwood Beach days ago, and a group on Australia Day gave the salute during a council event meant to pay respect to Indigenous communities, the commission said.
The "Heil Hitler" salute was a terrifying symbol of Nazism that celebrated Hitler's monstrous legacy and had no place in society, commission chair Dvir Abramovich and Melbourne Holocaust Museum chief executive Jayne Josem said in a joint statement.
"It is beyond belief that those inflamed with virulent antisemitism, who are using this evil gesture as a rallying cry and who have weaponised the salute to intimidate and terrorise the community, have the law on their side," they said.
"It is an unacceptable reality that in 2023 our parliament has yet to act on this outrage."
Victoria became the first Australian jurisdiction to ban the public display of the Nazi swastika, and it was time to close the lid on the sickening phenomenon of the salute, Dr. Abramovich and Josem said.
The state owed it to Holocaust victims, survivors, and the diggers who sacrificed themselves to criminalise the "hateful symbol of genocide".
"Let's be clear: performing this salute is a call for murder, and for a Holocaust survivor, seeing it tears a hole in their heart and is as threatening as being held up with a gun," Dr. Abramovich and Josem said.
Holocaust survivor Abram Goldberg said the salute should be banned "no question".
"My blood starts to boil when I see the Nazi salute, and it brings back the memory of six million Jews who were murdered by the Nazis," he said.
Jack Leder, another survivor, said allowing people to perform the Nazi salute justified it in the public's eyes, while Holocaust survivor Sarah Saaroni said seeing the gesture brought back memories and pain.
Dr Abramovich, Josem and the survivors will seek a meeting with Premier Daniel Andrews and Attorney-General Jaclyn Symes to discuss a potential new law.
Victorian Environment Minister Ingrid Stitt condemned the salutes on Australia Day as completely unacceptable and said the government would continue to look at what it could do to legislate against such hateful behaviour.