Volkswagen to Build First Overseas EV Battery Plant in Ontario
[ad_1]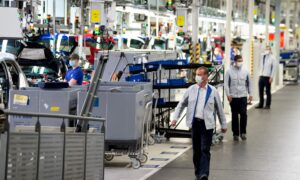 A subsidiary company of Volkswagen will be building a new electric vehicle (EV) battery manufacturing facility in southwestern Ontario, the European automaker announced on March 13.
Volkswagen's subsidiary company PowerCo will establish the facility in St. Thomas, Ont., which will be Volkswagen's first overseas battery cell plant.
In a March 13 release, Industry Minister François-Philippe Champagne said the deal marked a "historic investment" and advanced efforts to position Canada and Ontario "as a global leader on the electric vehicle supply chain."
Champagne also called the investment a step toward Canada's commitment to reach net-zero greenhouse gas (GHG) emissions by 2050, which includes a goal outlined by cabinet to have one-fifth of all new passenger vehicles sold in Canada be zero-emission by 2026.
Furthermore, Ottawa hopes to increase that number to 60 percent of all new passenger vehicle sales by 2030, and then 100 percent by 2035.
Volkswagen Group manages a portfolio of ten companies and is Europe's largest automaker, bringing in over $400 billion in revenue last year.
The company's decision to build the EV battery plant in Ontario comes after it signed a Memorandum of Understanding with Ottawa in August 2022, which was meant to help secure Canada's position as a "leading centre" for EVs and EV battery manufacturing, according to Champagne's office.
Electric Vehicle Mandates
Ottawa announced in December 2022 that it would eventually phase in penalties for automakers who do not meet EV sales mandates in the future.
Government estimates from Environment Minister Steven Guilbeault's department in December 2022 show that the proposed federal EV mandate will cost at least $99 billion through 2035 and will also "lead to a loss of consumer choice."
That estimated cost does not include the amount consumers may have to pay for personal charging stations and equipment, nor does it account for costs associated with increased power-grid demand, which Natural Resources Canada addressed in early February.
The department estimated in an Inquiry of Ministry that Canada's power grid will have to expand by 23 percent in order to sustain the increased demand brought about by more EVs on the roads.
The department did not estimate how the higher power-grid demand would impact taxpayers.
Tara MacIsaac contributed to this report. 
[ad_2]

Source link