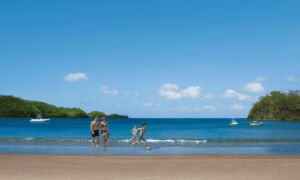 Countless Australians turned to hotel booking platforms over the summer break to compare the best deals for their holiday destinations.
While convenient for travellers, one senior politician is concerned the sites are charging accommodation operators hefty fees for what is essentially a payment processing service.
Assistant Competition Minister Andrew Leigh also worries they're punishing hotel operators that ask customers to book directly by pushing their listings to the bottom of search pages.
Such behaviour is an example of a tightly concentrated market, with many providers but only a few booking platforms.
"When you have monopoly or oligopoly players, there's always a risk they'll charge too much and abuse their monopoly position," Leigh told AAP.
The federal government is investigating options to promote competition in the accommodation booking market and will be watching other sectors dominated by a handful of players.
"You can think of this in the same way as which the government regulates industries on national security grounds," Leigh said.
"When the utility gets to a certain scale, it becomes significant for national security purposes and the government steps in to impose additional regulations."
Since taking office at the election the author, lawyer and former economics professor has kicked off Labor's pro-competition agenda.
He see's Australia's economy as far from match fit and says increasing market concentration is partly to blame for diminishing dynamism and productivity.
Leigh said, almost every Australian industry—department stores, newspapers, banking, supermarkets—is dominated by a few behemoths.
"We want to envision an Australian economy where people have as many choices as they have sporting teams to choose from."
When firms have few competitors, they are able to charge higher prices as consumers have no other choice but to buy their products.
There's evidence of this occurring with mark-ups—the gap between what it costs to produce a product and how much consumers pay—increasing in highly concentrated industries.
Leigh is also concerned about sluggish job-switching—robbing workers of pay rises and firms of the talent they need to innovate—and the low rate of business start-ups in Australia.
Technology poses a major challenge as a lot of competition issues are in the digital space, Leigh said.
"These platforms benefit greatly through scale—it doesn't cost twice as much to run a social media platform for twice as many users."
The consumer watchdog has been keeping an eye on these platforms through an ongoing digital platform services inquiry.
Leigh said assessing the Australian Competition and Consumer Commission's recommendations would be a priority in 2023.
While rarely based in Australia, digital firms are not exempt from Australian competition law.
For example, Australian laws were able to regulate social media giants through the news media bargaining code.
These laws endeavoured to correct an imbalance in this relationship—publishers needed social media companies to circulate their stories, while the social media platforms were not reliant on any one outlet despite news generally being good for engagement and advertising dollars.
"So we should never believe that Australia is too small to have an influence on the way in which platforms behave," Leigh said.