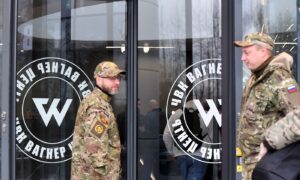 Wagner, a Russian private military group, will soon be designated as a criminal entity by the U.S. government following its involvement in the Ukraine war, while Washington revealed growing tensions between Wagner and the Russian military as well as North Korea's support for the group.
The Department of Commerce had designated Wagner a military end user last month, thus ensuring that it cannot procure equipment anywhere in the world that is based on U.S. technology or production, National Security Council (NSC) coordinator for strategic communications John Kirby said in a Jan. 20 press briefing. "Today, we are announcing additional actions that we are taking to help Ukraine defend itself against Russian invasion forces," he stated.
"First, the Department of the Treasury will be designating Wagner as a significant Transnational Criminal Organization under Executive Order 13581, as amended. In coordination with this designation, we will also impose additional sanctions next week against Wagner and its support network across multiple continents."
Wagner is a Russian private military company that is committing "atrocities and human rights abuses in Ukraine," Kirby said. As Russia continues to struggle in its war in Ukraine, President Vladimir Putin has been "increasingly turning" to services provided by Wagner to boost its military prowess.
According to Kirby, there are an estimated 50,000 Wagner personnel deployed in Ukraine, which includes 40,000 convicts and 10,000 contractors.
Wagner–Russian Military Tensions
According to Kirby, U.S. intelligence indicated that "tensions" are increasing between Wagner and the Russian Ministry of Defense. Wagner is turning into a rival power center to the country's military, he noted.
Wagner's fighters and its owner Yevgeniy Prigozhin, who is said to be a close ally of Putin, have publicly criticized Russian defense officials, including generals for their battlefield performance. "It is likely there are mounting tensions between Russian officials and Mr. Prigozhin," Kirby stated.
Kirby accused Prigozhin of trying to advance his personal interests in Ukraine, with Wagner making its military decisions largely on how it will benefit their leader, including positive publicity.
Though the Russian Defense Ministry has "reservations" about Wagner's recruitment methods, Washington believes that the group will continue recruiting members from prison.
Kirby also highlighted North Korea's "ongoing support" for the Russian invasion of Ukraine by offering arms and ammunition to Wagner. Officials from Pyongyang "falsely deny" providing such support to the military.
Kirby released imagery of an initial delivery of weapons that took place on Nov. 18–19 when five Russian railcars traveled to North Korea, loaded the cars with shipping containers, and turned back to Moscow.
Washington urged North Korea to cease weapons delivery to Wagner but admitted that it expects such deliveries to continue.
Wagner in Ukraine, Global Operations
Wagner's private military fighters were recently involved in some bloody battles in Ukraine's Bakhmut and Soledar regions.
After capturing Soledar, a row between the Russian defense ministry and Wagner erupted over who should get credit for it. The military initially did not mention that Wagner mercenaries were involved in the battle. But later, it praised the group's fighters for playing a "courageous and selfless" role.
On Saturday, Prigozhin published an open letter to the White House asking it to explain what Wagner is being accused of. "Dear Mr. Kirby, Could you please clarify what crime was committed by PMC Wagner?" the letter said, according to Bloomberg.
Back in 2017, Washington imposed curbs on trade with Wagner to restrict the group's access to weaponry. In December 2021, the European Union imposed sanctions on Wagner.
In addition to Ukraine, the military group has been active in nations like Libya, Syria, Mali, Mozambique, Sudan, and the Central African Republic.