We Warned Australia of Chinese Military Deal: Solomons' Opposition Leader
Matthew Wale, the prominent opposition party leader in the Solomon Islands, claims to have warned Australian officials last year that Beijing and the Sogavare government were working on a military deal that would allow the People's Liberation Army to base assets in the region.
The deal, which surprised officials last week, was revealed after it began circulating online on March 24 and could open the door for Chinese security personnel, including police, soldiers, weaponry, and naval ships, to be stationed in the Pacific nation—based just 1,700 kilometres from the northern Australian city of Cairns.
"I told the Australian high commissioner that there were discussions on something that would lead to a security agreement that may be open to security assets and shore base facilities was in the making," he told The Australian. "I was already at that time aware (of the plan) because I was informed by somebody who was in those discussions."
He said he spoke to the Australian High Commissioner around August last year when the "exploratory discussions" took place between Beijing and Sogavare.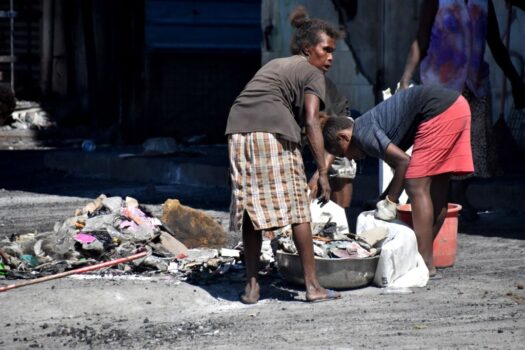 "All the indications were there, and the Australian government did nothing about it—so I'm extremely disappointed in the Australian government," he said.
Australia's main opposition, the Labor Party, has criticised the Morrison government for supposed cuts to aid to Pacific nations and a lack of engagement with leaders in the region.
"We wouldn't have cut funding to aid, which occurred from Labor's projections when there was a change of government. That was short-sighted," Labor leader Anthony Albanese told reporters on March 26. "It was aimed again at sending a message domestically without putting our national interest first."
Albanese will meet with security officials on March 28, noting the developments in the Pacific were of grave concern.
However, Prime Minister Scott Morrison has refuted the claims,  saying that assistance to the region had increased 50 percent.
"While they (Labor governments) were chasing votes for the UN Security Council, throwing money in continents far away from our region, we decided to increase our focus and draw together, and this started under Foreign Minister Bishop, drawing together our overseas development assistance from around the world and focusing it on the Pacific region because we saw that as our first responsibility," he told reporters on March 26.
Yet, Cleo Paskal, an associate fellow of the Asia-Pacific Programme at Chatham House, said it was unwise to try and outspend the Chinese Communist Party's (CCP) influence-building machine.
"You send in police; the Chinese are going to send in their own police," she told The Epoch Times. "You train police officers; they'll train police officers."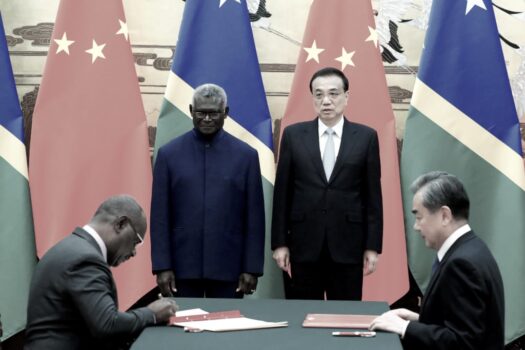 "The difference is they've got a guy in power (Solomon Islands' Prime Minister Manasseh Sogavare) who backs them. Sogavare has never been pro-Washington, pro-democracy, or pro-accountability and transparency."
Paskal has warned that with backing from Beijing, the current Solomon Islands prime minister could attempt to solidify his hold on power and that Australia and New Zealand should try to reinvigorate the democratic process in the country—via the 2000 Townsville Peace Agreement—to put more pressure on Sogavare.
"Put out the steps that the various provinces, including Malaita, agreed to. There's a whole series of things that have already been negotiated—everybody signed on, including the government under Sogavare," she said.
The 2000 Agreement ended violence between rival militia groups and the government in the Solomons and a foundation to the current government.
"Sogavare and his members of Parliament are given a choice, 'You can deal with China, or you can deal with the rest of the world,'" she added, noting that Sogavare and his Cabinet could lose privileges afforded to them in their relationship with Australia, which in turn could cause internal pressure to build on the embattled prime minister.
Reinvigorating the democratic process to fend off Chinese influence has precedence, with Samoa's newly elected Prime Minister Fiame Naomi Mata'afa, last year scrapping a slated $100 million Belt and Road Initiative project upon ascending to the highest office—with great resistance from former leader Tuilaepa Sailele Malielegaoi.
The leaked "Framework Agreement Between the Government of the People's Republic of China (PRC) and the Government of the Solomon Islands on Security Cooperation" has yet to be officially formalised.
Article 1 of the security deal says the Solomon Islands can request that China "send police, armed police, military personnel and other law enforcement and armed forces to the Solomon Islands to assist in maintaining social order."
Article 2 outlined that Beijing could, "according to its own needs and with the consent of Solomon Islands, make ship visits to carry out logistical replenishment in, and have stopover and transition in the Solomon Islands, and the relevant forces of China can be used to protect the safety of Chinese personnel and major projects in the Solomon Islands."
A U.S. State Department spokesperson said the deal did not address underlying issues that contributed to deadly riots in late November last year that rocked the capital Honiara.
"We do not believe [People's Republic of China] security forces and their methods need to be exported," the spokesperson said. "This would only fuel local, regional, and international concerns over Beijing's unilateral expansion of its internal security apparatus to the Pacific."