West Needs More 'Courage' in Helping Ukraine Against Russia
Ukrainian President Volodymyr Zelenskyy accused NATO and the West of lacking the courage to provide more support amid the conflict with Russia, making another plea for fighter planes and more military equipment.
"I've talked to the defenders of Mariupol today. I'm in constant contact with them. Their determination, heroism, and firmness are astonishing," Zelenskyy said in a video address on Sunday, referring to the besieged Black Sea city.  "If only those who have been thinking for 31 days on how to hand over dozens of jets and tanks had 1 percent of their courage."
Since the start of the Feb. 24 Russian invasion, Western allies and NATO states have given Ukraine numerous anti-tank missiles, anti-air missiles, small arms, and other military equipment, while there have been reports of NATO and the United States sharing intelligence with Kyiv's government.. No fighter jets, ships, or heavily armored units have been provided.
Earlier this month, the Pentagon described Poland's proposal to transfer Soviet-era MiG-29 fighter planes to a U.S. Air Force base in Germany as untenable.
But Zelenskyy and other Ukrainian officials say that in order to push back Russian forces, it needs fighter jets and not just the other military equipment that was supplied by the West. Meanwhile, Zelenskyy has asked often for NATO to enforce a no-fly zone over Ukraine, which Western leaders have said would push NATO into a direct conflict with Russia, a nuclear-armed state.
"So, who is in charge of the Euro-Atlantic community? Is it still Moscow, thanks to its scare tactics?" Zelensky also said Sunday, according to The Associated Press. "Our partners must step up their aid to Ukraine."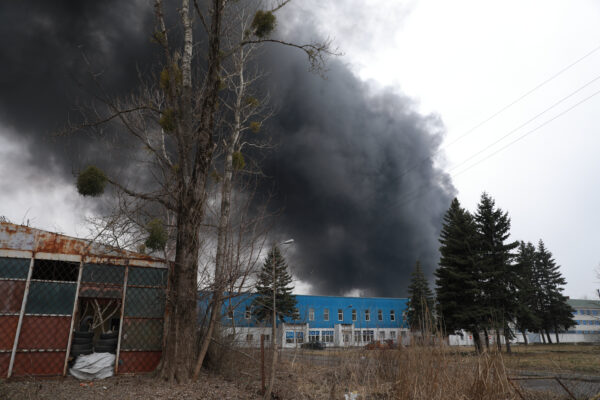 Last week, Western leaders met in Brussels for a NATO summit amid the conflict in Ukraine. Zelenskyy's chief of staff on March 25 said that Kyiv officials were "very disappointed" in the outcome of the NATO summit.
"We expected more bravery. We expected some bold decisions," the official, Andriy Yermak, said.
It comes as Russian Defense Ministry spokesman Igor Konashenkov said Sunday that Russian forces used cruise missiles to hit a fuel depot and another target in Kyiv. Those strikes, which occurred about 40 miles from the Polish border, came as President Joe Biden was wrapping up his visit to Poland and visited with troops and Ukrainian refugees.
On Saturday and Sunday, the White House issued a series of statements downplaying Biden's remarks that some claimed were a call for a regime change in Moscow: "For God's sake, this man cannot remain in power."
But Secretary of State Antony Blinken, speaking in Jerusalem, said Biden doesn't want to see a change in Russia's government. Russia also quickly denounced the remark.
"We do not have a strategy of regime change in Russia, or anywhere else, for that matter," Blinken said Sunday. "In this case, as in any case, it's up to the people of the country in question. It's up to the Russian people."