Will New Pandemic Treaty Cause Permanent Lockdowns?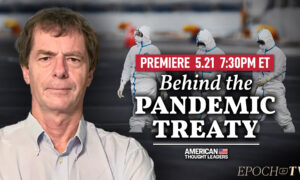 This episode will premiere on Sat. May 21 at 7:30 p.m. ET.      
With the World Health Organization (WHO) set to discuss a global pandemic treaty and far-reaching amendments to the 2005 International Health Regulations, we sit down with Dr. David Bell, an expert in global health and infectious disease.
"Even though it doesn't directly change sovereignty, in effect, it does. It takes away the ability of the people of that country to make their own decisions," says Dr. Bell.
And more importantly, these proposals will create a bureaucracy "whose existence is dependent on pandemics," says Dr. Bell. "They'll have a very vested interest in finding outbreaks, declaring them potential pandemics, and then responding. It's the way that they will survive."
And it appears that they will make lockdowns "a permanent feature of pandemic responses," Dr. Bell says.
Dr. Bell is a public health physician. He has previously worked at the World Health Organization, as programme head for malaria and febrile diseases at the Foundation for Innovative New Diagnostics (FIND) in Geneva, and as director of Global Health Technologies at the Intellectual Ventures Global Good Fund. He is now on the board of Pandemics, Data, and Analytics (PANDA), a group studying the world's response to COVID-19.
Subscribe to the American Thought Leaders newsletter so you never miss an episode.
* Click the "Save" button below the video to access it later on "My List".
Follow EpochTV on social media: 
Twitter: https://twitter.com/EpochTVus
Rumble: https://rumble.com/c/EpochTV
Truth Social: https://truthsocial.com/@EpochTV
Gettr: https://gettr.com/user/epochtv
Facebook: https://www.facebook.com/EpochTVus
Gab: https://gab.com/EpochTV
Telegram: https://t.me/EpochTV