Ukrainian President Volodymyr Zelenskyy this weekend revealed that Ukraine is ready for a counter-offensive to re-capture territory that was acquired by Russian forces, warning of large casualties in the coming fight.
In an interview with the Wall Street Journal, the leader of Kyiv's government said that a long-reported counter-offensive will come soon.  However, he warned that  "a large number of soldiers will die" in the attempt.
"We strongly believe that we will succeed," Zelenskyy told the Rupert Murdoch-owned outlet from Odessa, a southern port city. "I don't know how long it will take," he added. "To be honest, it can go a variety of ways, completely different. But we are going to do it, and we are ready."
And Ukraine, which has been acquiring weapons from NATO countries for months, has better-motivated troops, he said. "There is no place for weakness," he told the outlet.
In the interview, he did not provide more details about when or where the counter-offensive might begin.
Russia first invaded Ukraine last February and quickly took large parts of the country's eastern territory, although Moscow's forces have stalled since then. In recent months, fighting has raged in the eastern city of Bakhmut as Ukrainian forces attempted to hold the city.
In that interview, meanwhile, Zelenskyy also claimed that the 2024 elections may bring in an administration that may be more reluctant to send weapons and equipment to Ukraine. For example, former President Donald Trump, the leading GOP candidate, said he wanted a swift end to the war and has asserted that the death toll is far greater than what is being reported.
"In a situation like this, when there is support, you are afraid of changes," Zelenskyy, who previously has been publicly critical of Trump, told the WSJ. "And to be honest, when you mention a change of administration, I feel the same way as any other person—you want changes for the better, but it can also be the other way around."
He also offered speculation on what would have happened if Russia invaded Ukraine if Trump were still in power. However, Trump has repeatedly argued that Moscow would not have made the attempt if he was in office.
On multiple occasions, Trump has said that, if he's elected in 2024, he will end the Ukraine-Russia war within 24 hours. Last week, during an interview with Fox News's Sean Hannity, the former president said that it's imperative that the war be stopped.
"I don't want that war to continue. And I'll stop that war—mark my words—I'll stop that war in 24 hours," Trump said. "Right now, it's a mess, now they're hitting Kyiv, and they're hitting all sorts of things that weren't supposed to be hit. The country is being decimated."
"By the way, the deaths are far more than they're reporting," he continued. "When they say: 'Nine apartment houses got knocked down, and two people got hurt'—no, no, hundreds of people died. The numbers are much different than what you're being told."
Fighting Update
Russia's military on Sunday said that it struck Ukrainian airfields overnight, alleging that radar installations, ammunition depots, and Kyiv-owned aircraft were damaged or destroyed.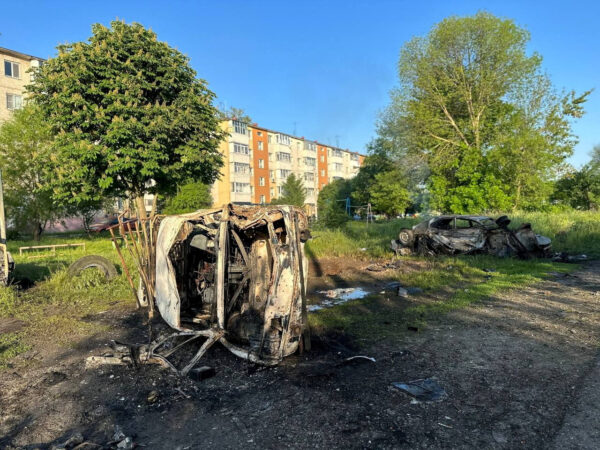 The attack entailed "long-range precision-guided air-launched weapons" and achieved its goal, Russia's Ministry of Defense said in a statement on Sunday to state-backed media. "Command posts, a radar installation, Ukrainian aviation equipment, and storage facilities with weapons and ammunition were hit," the statement read.
It comes as a group of pro-Ukraine Russian fighters involved in recent incursions into Russia's border region of Belgorod said on Sunday they had taken two Russian soldiers captive and offered to exchange them for a meeting with the regional governor. The Freedom of Russia Legion and the Russian Volunteer Corps have reported fighting battles in the region in recent days as Kyiv prepares to mount a counteroffensive against Kremlin forces in Ukraine, according to Reuters.
The Epoch Times was unable to independently verify the reports. In a video on the Freedom of Russia's Telegram channel, a man identifying himself as the commander of the Russian Volunteer Corps said he would hand the two captives to Belgorod Governor Vyacheslav Gladkov if he came to meet the fighters in the village of Novaya Tavolzhanka before 5 p.m. local time). The video showed the two captives, one of whom appeared to be injured and was laid out on an operating table.
"Today until 17:00 you have the opportunity to communicate without weapons and take home two Russian citizens, ordinary soldiers whom you and your political leadership sent to the slaughter," read a joint statement posted along with the video, the Reuters news agency reported.
Russian forces declared victory in the eastern city of Bakhmut last month after the longest, deadliest battle since their full-scale invasion of Ukraine began 15 months ago. Ukrainian Deputy Defense Minister Hanna Maliar told The Associated Press this weekend that Russia is seeking to create the impression of calm around Bakhmut, but in fact, artillery shelling still goes on at levels similar to those at the height of the battle to take the city. The fight, she said, is evolving into a new phase.
The Associated Press and Reuters contributed to this report.