Treasury Secretary Janet Yellen on Thursday told members of Congress that their bank deposits and savings "remain safe" after the collapse of Silicon Valley Bank and Signature Bank in recent days that prompted federal intervention.
Speaking before the Senate Finance Committee, Yellen said that the federal government is committed to ensuring that deposits are safe and that the American banking system is sound. There have been fears that the contagion that caused Signature and SVB to collapse may spread to other banks, as some community and regional banks have seen large declines in their stocks since the crisis emerged late last week.
"I can assure the members of this committee that our banking system remains sound, and that Americans can feel confident that their deposits will be there when they need them," Yellen told senators in a prepared statement. "This week's actions demonstrate our resolute commitment to ensure that depositors' savings remain safe."
Concerns and criticism have been raised about why the federal government didn't spot risks at SVB and Signature Bank before customers withdrew their deposits en masse in what has been described as a run on the two banks. On Sunday, the Federal Deposit Insurance Corporation (FDIC), Treasury, and Federal Reserve announced a rescue package to guarantee that customers with SVB—an institution heavily used by tech firms and startups companies—and Signature had access to their money, even allowing for amounts that go above the FDIC limit of $250,000.
Combined with a tech glitch that impacted numerous Wells Fargo customers last week, some Americans have become increasingly worried about their savings and deposits. Some top investors and financial experts also called on the federal government to take urgent action in rescuing SVB to prevent a broader liquidity crisis that some say would lead to another 2008 financial crisis-like scenario.
Yellen said that the rescue was designed to ensure that customers could gain access to their money, pay their pills, and pay their workers. Debtholders and shareholders are not protected from losses linked to the bank's collapse, she said, adding that the Federal Reserve also made it easier for banks to borrow in case of a possible emergency.
"No taxpayer money is being used or put at risk with this action," she claimed.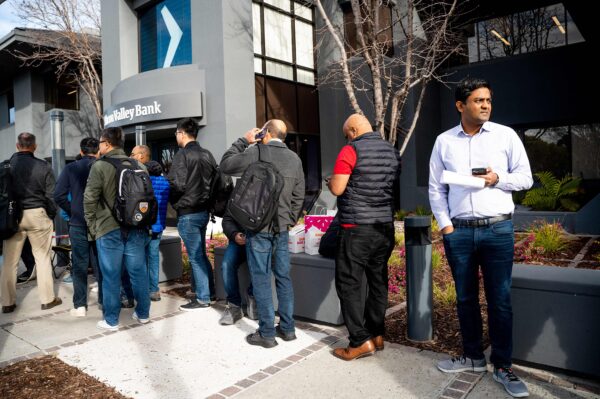 However, shares of smaller U.S. banks continued to drop on Thursday as investors looked for other institutions that could experience a similar bank run by depositors. Wall Street has focused on banks with many depositors above the $250,000 limit that's insured by FDIC, as well as those that serve lots of tech startups.
California-based First Republic Bank has been at the center of the market's turmoil, and it dropped 27 percent Thursday. The bank's stock went down by more than 50 percent over the past week.
Analysts have said that banks have suffered due to the Federal Reserve's attempts to hike interest rates to offset decades-high inflation. Higher rates can tame inflation by slowing the economy, but they raise the risk of a recession later on and also can harm the prices of stocks, bonds, and other investments.
Some are also betting on the possibility the Fed could take a pause on rate hikes when it meets next week. But the European Central Bank on Thursday raised its key interest rate by half a percentage point, brushing aside speculation that it may reduce the size because of all the turmoil around banks.
In her remarks Thursday, Yellen made no mention of the situation regarding Credit Suisse, the Swiss-based giant that saw its shares plunge earlier this week. The firm said in a statement this week that it would borrow up to 50 billion Swiss francs, or about $53 billion, from Switzerland's central bank to provide more liquidity.
The secretary was speaking to the Senate committee as part of President Joe Biden's bid to pass a $6.8 trillion budget, which proposes higher taxes on wealthy individuals, increased defense spending, and more.
The Associated Press contributed to this report.