New Warnings Issued as Nor'easter to Rapidly Intensify Before Hammering East Coast
[ad_1]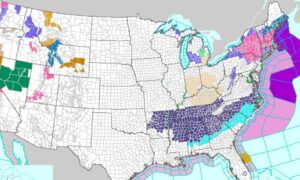 Winter storm warnings were issued across much of the Northeast United States on Monday as a strong Nor'easter storm was forecast to hit later in the day, bringing upwards of 30 inches of snow in some localities.
"A coastal low pressure will strengthen rapidly into a major Nor'aster that significantly impacts the Northeast beginning later Monday night through Wednesday," said the National Weather Service in a Monday update. "Heavy snow rates (2 inches plus per hour) and strong winds will produce dangerous to impossible travel."
New York Gov. Kathy Hochul on Monday afternoon declared a state of emergency starting at 8 p.m. ET due to the weather impacts. She said that "the snow will be heavy … one [and]& a half feet will feel like three — [and]  will likely cause power outages."
"This storm will create hazardous road conditions through Wednesday morning," she wrote. "Please stay home [and] avoid any unnecessary travel so you can stay safe [and] help plow crews do their job."
The snow and high winds will likely result in power outages and tree damage, it warned. Upwards of 30 inches of snow could fall in mountain ranges across New York state, Massachusetts, Vermont, and New Hampshire, the agency said.
"Localized maximum totals of 24-30 inches are possible. Widespread minor coastal flooding and beach erosion may be possible through Wednesday as the low pressure stalls and deepens off the coast of New England," the bulletin said, adding that the snow will be "heavy-wet."
Forecasters say that for the Northeast, the storm may be the most impactful one so far this winter. According to AccuWeather, the system becomes a "bomb cyclone" when it drops 24 millibars in 24 hours.
Federal winter storm warnings extend from northern New Jersey and northeastern Pennsylvania to central and upstate New York, northern Connecticut, western Massachusetts, northern Rhode Island, southern Maine, and parts of Vermont as well as New Hampshire, according to an NWS map. Winter storm watches are in effect for parts of northern New Hampshire and Maine along with areas in Massachusetts, Connecticut, and Rhode Island.
New York City, southern Connecticut, and the lower Hudson Valley are under a winter weather advisory, meaning smaller amounts of snow will fall.
The storm is likely to result in very low visibility on roadways, making travel very difficult to impossible, the weather service said.
California Faces More Storms
On the West Coast, another storm targeted areas of northern and Central California already saturated from the unusual bout of bad weather. It promised to dump as much as seven inches of rain in higher elevations and up to three inches elsewhere, the National Weather Service said in its forecast.
Winds of 70 miles per hour were also forecast while five feet of snow was possible in higher parts of the state.
"We're going to see trees down, power outages. We just can't get a break right now," Brian May, a spokesman for California's Office of Emergency Services, told MSNBC on Monday, adding that 40 of 58 counties were under a state of emergency. "Stay on high alert," May urged, calling on residents to evacuate when local officials issue orders.
The storm was the product of what meteorologists call an atmospheric river, a high-altitude current of dense, subtropical moisture streaming into the West Coast from the warm Pacific waters around Hawaii.
Reuters contributed to this report.


[ad_2]

Source link