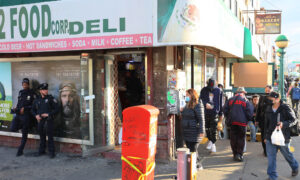 The New York Police Police Department is advising businesses to ask patrons to take off their masks before entry in light of the high number of thefts and robberies across the city.
Removing face masks should be made a "condition of entry," NYPD Chief of Department Jeffrey Maddrey said at a press conference last week, noting that criminals have been taking advantage of masks to avoid detection on surveillance cameras.
"People are coming up to our businesses, sometimes with masks, sometimes masks, hoods and latex gloves, and they're being buzzed in, they're being allowed to enter into the store and then we have a robbery or some kind of property being stolen," Maddrey said.
"We are asking the businesses to make this a condition of entry: That people, when they come in, they show their face, they should identify themselves," he continued. "And if they feel like they want to put their mask on after they identify themselves for their safety, by all means, they should do so."
Prior to the COVID-19 pandemic, most businesses in the city would block customers from entering the premises with masks on, according to the police chief. But taking in masked customers is now "a way of life."
"Since the pandemic, this is a way of life for us, where people wear masks regularly," he said. "But we're seeing this being used too much as a ruse to enter into businesses and to victimize our businesses."
"We need our businesses to be proactive and do their due diligence. We need to make sure people are identifying themselves," Maddrey said.
A Shoplifting Epidemic
The advice comes as New York City Mayor Eric Adams admitted that a shoplifting epidemic is forcing chain stores to close down and costing retail workers their jobs.
"People who say that we're criminalizing the poor—they're wrong," Adam said at a Feb. 12 budget hearing in Albany as he made the case for billions in additional state funding for his city. "Poor and low-income New Yorkers are being unemployed because we're losing those businesses in our city."
"We're losing chain stores that are closing down. People who are being employed in those stores are losing their jobs," the mayor told the state Legislature. "They're adding to our unemployment."
The surge in shoplifting has prompted some business owners to take actions on their own.
The 34th Street Partnership, a trade group representing small businesses in the Midtown Manhattan neighborhood around Penn Station and Madison Square Garden has recently hired K-9 units to sniff out shoplifters.
According to an analysis of NYPD data by The New York Post, there were 63,699 reports of shoplifting along with retail related larcenies and robberies in 2021, and 43,675 incidents in 2022.