A Romanian court on Jan. 10 rejected Andrew Tate's bid to end his detention, ruling that the social media personality must remain in custody as an investigation into his alleged role in a human trafficking ring continues.
Tate, 36, and his brother, Tristan Tate, had arrived at the Bucharest Court of Appeal early on Tuesday morning to appeal their extended 30-day detention after they were initially arrested on Dec. 29 along with two Romanian women in the capital city of Bucharest.
At the time of their arrest, prosecutors said that the brothers had been under investigation since April 2022 alongside the two women over their alleged roles in an organized crime group, human trafficking, and rape.
The two brothers have both denied any wrongdoing.
The suspects were initially set to be detained for 24 hours but a judge later extended their arrest period to 30 days, explaining in a court document at the time that "the possibility of them evading investigations cannot be ignored," and that they could "leave Romania and settle in countries that do not allow extradition."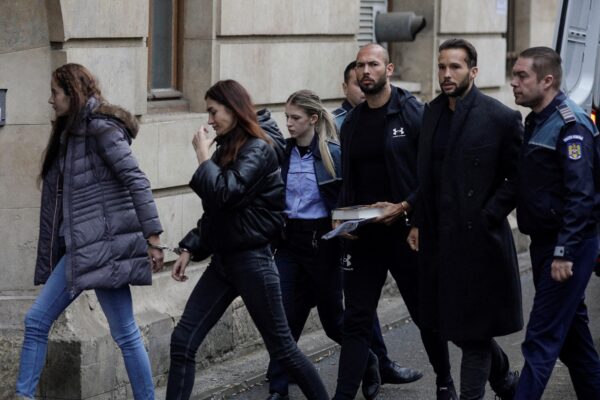 Tate's Vehicles, Luxury Homes Seized
Tate and the other suspects had appealed the 30-day detention as well as the seizure of their belongings, which include at least 15 luxury vehicles and over 10 properties and homes, according to officials.
Ramona Bolla, a spokesperson for the Romanian anti-organized crime agency DIICOT confirmed to the Associated Press that the court on Tuesday rejected Tate's appeal to end his detention following a six-hour hearing.
Meanwhile, Tate's lawyer, Eugen Vidineac, told local media after the ruling: "I am very disappointed—the measure seems excessive to me."
The Epoch Times has contacted Eugen Vidineac for comment.
Now that the extension has been upheld, prosecutors will be able to request a further extension of the detention to up to 180 days.
Earlier on Monday, Vidineac claimed in an interview with the Romanian online newspaper Gandul that the defense has not been granted access to the prosecution file in the case against Tate and his brother, meaning they were unable to ensure the brothers' effective defense.
The lawyer also stated that there was no evidence to support the charges made against Tate.
"There is not a single piece of evidence at this point, apart from the victim's statement, that leads to the idea that a crime of rape was committed," the lawyer said. With regards to the charges of human trafficking and being part of an organized crime group, the lawyer also said that, in his opinion, there is "no evidence there either."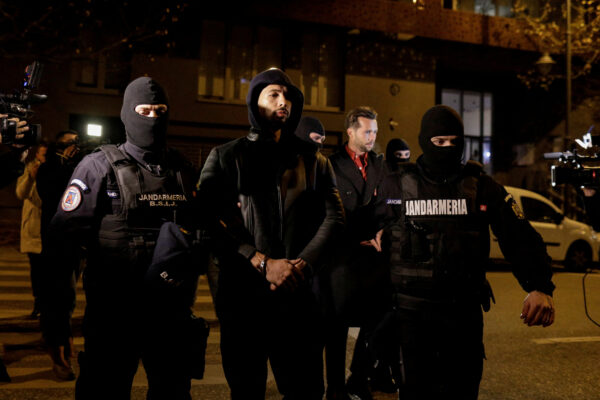 Lawyer Says 'No Evidence' in Tate's Case
"The documents to which we have so far had access do not accurately describe matters relating to the constituent elements of the offense of organized criminal group, they do not accurately describe the hierarchy of the group, they do not describe the functions of each person who was part of this alleged criminal group and, also, with regard to trafficking in human beings, as the offense is described, it does not comply with the legal requirements concerning the way in which the offense of trafficking in human beings is committed," Vidineac said.
Tate, a former kickboxer, became popular on social media due to his videos featuring his controversial views regarding the roles of men and women. He was eventually banned from all major social media platforms before being welcomed back to Twitter last year after businessman Elon Musk took over the platform.
Prosecutors allege that Tate, his brother, and the two other women created an organized crime group to recruit, house, and sexually exploit women by forcing them to create pornographic content to be placed on websites for a cost.
Romanian authorities say they have so far identified six women who were allegedly sexually exploited by the suspects and that they were tricked into exploitation under false promises of marriages or relationships with genuine feelings of love.
The victims were allegedly taken to buildings in Ilfov county, which surrounds Budapest, and subjected to acts of physical violence and mental coercion, prosecutors allege.