Former PM Savages Labor Government Over AUKUS Deal
[ad_1]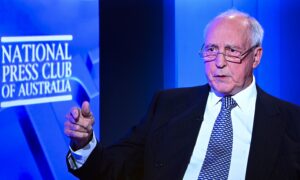 Former Prime Minister Paul Keating has savaged senior Labor Party ministers for continuing with the AUKUS deal while claiming it will make the country "subordinate to the United States."
The former leader of the nation launched multiple salvos during an address to the National Press Club just a day after details of AUKUS were unveiled in San Diego by U.S. President Joe Biden, UK Prime Minister Rishi Sunak, and now-Labor Prime Minister Anthony Albanese.
AUKUS is a trilateral pact that streamlines existing defence cooperation between the three countries and is viewed as a major bulwark against Chinese Communist Party military aggression in the region.
The centrepiece of AUKUS is the arming of Australia with nuclear-powered submarines and cooperation in a range of other fields, including hypersonic weapons, underwater drones, and cybersecurity.
Keating Cuts Loose
Former Prime Minister Keating (1991-1996) said there was no need for submarines—playing down the prospect of a physical invasion from a hostile nation—while calling AUKUS the "worst international decision" by a Labor government since Billy Hughes introduced conscription in World War I.
"A contemporary Labor government is shunning security in Asia for security in and within the Anglosphere," he said in a lengthy statement released on March 15.
"Anthony Albanese's government has picked up and has taken ownership of the strategic architecture of the Morrison government—but taken it up in full and with unprecedented gusto."
He blamed Foreign Minister Penny Wong and Defence Minister Richard Marles for backing the Liberal-National Coalition in its approach towards Beijing while claiming the trio (along with Prime Minister Albanese) fell "immediately into line" with the "neo-cons" at the Office of National Intelligence, the Defence Department, and the Australian Strategic Policy Institute.
His comments aligned with criticism from the Australian Greens, who said AUKUS would make the country a "third wheel" to the United States and pull Australia into a regional arms race.
"This reckless alliance, cooked up by the Morrison government and backed by Labor, fundamentally compromises Australia's sovereignty by aligning us with the military and nuclear strategies of the world's biggest powers," said Greens Senator David Shoebridge in a statement.
Meanwhile, Keating also played down his own links to China while saying there was a "dispute" over whether the persecution of the Uyghur minority was happening. A comment that drew a sharp response from human rights activists like Drew Pavlou.
"Paul Keating can't answer National Press Club questions about Uyghurs because that would breach his terms of agreement with the Chinese Communist Party as a paid propagandist," he wrote on Twitter.
Keating's Comments 'Unworldly': Former Cabinet Minister
In response, opposition leader Peter Dutton said Australians would ignore Keating's comments and look to advice from the country's defence chiefs.
"I think most Australians will look to the advice of those experts who are contemporary, who understand the intelligence and who are acting on it, and the government is acting on the advice of intelligence and the military chiefs," he told reporters.
While former Keating Cabinet member, Gary Johns, said the Labor elder was ignoring the obvious.
"No one's talking about literally physically invading Australia," Johns told The Epoch Times. "It's the movement of trade across that Chinese area of influence that worries us, and of course, the rules under which we operate might not hold if [Beijing] were more powerful."
He also said Labor's Right faction (which includes Keating and former Foreign Minister Bob Carr) are "marooned" in their policy settings from the 1980s, a time when the world was keen to engage with China in the hopes it could democratise.
"They've been caught marooned backing up the People's Republic of China and downplaying their traditional understanding of U.S. politics and its power of good in the world," he said.
"The New South Wales (NSW) Right are caught out of time. Albanese is [also] caught—there's nothing he can do—he's just got to go through with AUKUS," John said, noting the move will also play well politically and distract from pressing issues at home, including inflation, electricity prices, and balancing the budget.


[ad_2]

Source link