Visitors to universities in Sydney may be surprised by the prevalence of Marxist posters on these top universities' campuses.
The posters, put up by the organization "Socialist Alternative," are seen in public spaces at the University of Sydney (USYD), the University of New South Wales (UNSW), the University of Technology Sydney (UTS), Macquarie University (MQ), and around the streets in the city, in contradiction of the policies of universities and councils.
"It's just like the cockroaches, and there are so many of them," Peter, a student who chose to go by a pseudonym due to security concerns, told The Epoch Times.
"I'm not against a university being an intellectual space to discuss ideas, including Marxism, but I believe that university should be an intellectual space where multiple ideas are discussed," he said.
Peter believes that the problem with the Marxists is that "they are not tolerant of other people."
"It's impossible to share space with them [socialists] because they're so dominant," he said.
Student Alleges Universities Not Enforcing Free Speech Rules
Peter added that he is very concerned that the universities are not enforcing their own rules against the Marxist posters in non-designated spaces.
He has tried to urge his university to take action on the posters multiple times.
"I think it's unjust because if anyone else did that, they would be in trouble. Because the socialists do it, and they don't care. The university is looking to get away with it, so there's a double standard when it comes to enforcement."
A spokesperson of USYD said the university has designated noticeboards on campus for students and would not remove posters from those areas unless they were in breach of the law or the universities policies and codes of conduct.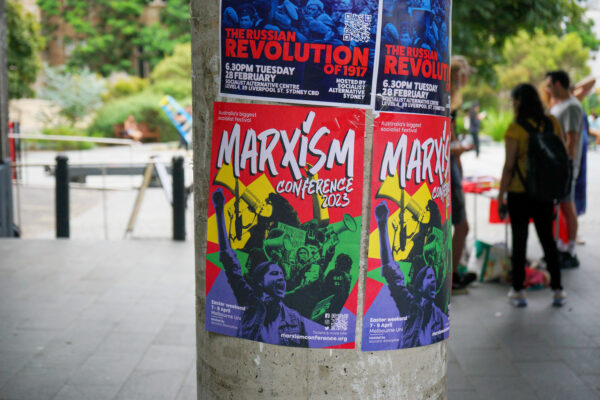 "We have designated spaces on campus for students to place signs and posters, and note there are plenty of Marxist posters on campus today," the spokesperson told The Epoch Times in an email.
"We don't condone the removal of posters from these areas but do also respect the right of students to express their views in this manner. "
The Socialist Alternative's chapter in UNSW has already been disaffiliated due to not following the rules, according to Peter.
The Epoch Times can confirm that the club is currently not on UNSW's student club page.
However, that doesn't stop the group from putting up its flyers on campus.
"That doesn't stop them because they set up a store anywhere on campus anyway, and then the university does nothing," he said.
Peter also doubted if the socialists use printers in UNSW to print the posters.
"I wouldn't be surprised if most of them aren't students," he said.
Hard for Universities to Take Action?
When asked about potential reasons of the universities are not taking enough action, Peter said he believed it was due to the voluminous amount of posters placed around campus.
"It's just easier just to ignore them than to try to claim them," he said.
"Because the socialists are not going to quit. See the rest of us, if we got in trouble [we would quit], but if the socialists get in trouble, they just keep on going, so the officials are like, it's not worth trying to stop them. As long as they're not super violent, we'll let them get away with it."
The student has been trying to rip the Marxist posters off himself with some of his friends.
"Why do we do this? Simply because we think that students shouldn't have to walk onto a campus and see socialist stuff everywhere," he said. "If somebody else pulled down the posters for us, we'd be very, very happy. It's less work for us."
UTS declined to comment on the issue, while both UNSW and MQ did not reply to the media inquiry by publication time.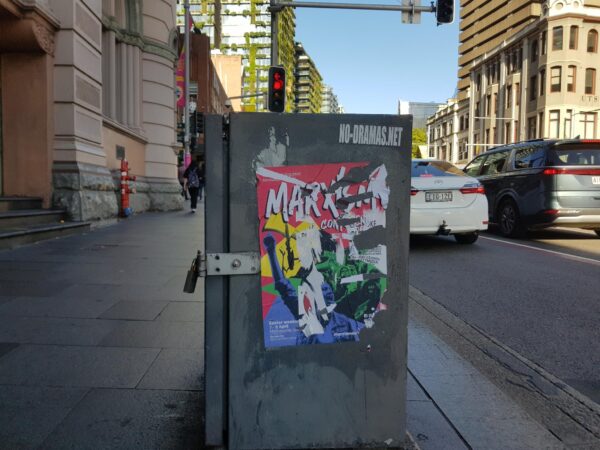 Professor Calls for Diverse Ideas Discussed in Universities
Gigi Foster, a professor of Economics at UNSW, said while she is not very clear on the rules for posting flyers or advertisements for political groups in the university, she did see socialist/Marxist posters more than other types of student-activity posters in her travels around campus.
"I've considered stopping to have a chat with the socialist/Marxist group representatives from time to time but have been in a rush and frankly felt such a chat would lead nowhere positive because I doubt that the students there are interested in hearing a different perspective: they are there to recruit new members," she told The Epoch Times in an email.
"What I conspicuously do not see anywhere on campus is any representation of libertarian or conservative groups."
Foster believes that universities should be a place where "beliefs and perspectives of many diverse types are aired, championed, and discussed with thought and tolerance for the other side."
"Teaching students to do this is part of what a university should do, following that inspirational saying of John Stuart Mill: 'He who knows only his side of the case, knows little of that.' I don't think that universities in Australia, in general, are doing very well on this metric of success," she said.
The Epoch Times has reached out to the Socialist Alternative and its chapters in all four universities but has not received a reply.
Councils: University Not Within Its Control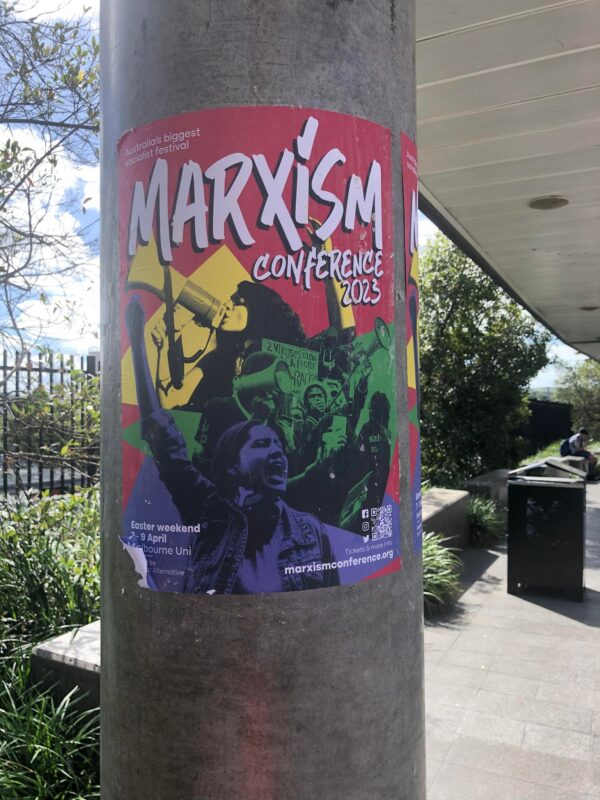 The Ryde city council, the LGA where Macquarie University lies, confirmed that the university is not within the Council's control.
"Unauthorised advertising material, such as posters, are not permitted in public areas with the exception of political posters during local, state, and federal elections, where conditions apply. Council approval is not required for advertising on private property," Ryde city council told The Epoch Times in an email.
"Council rangers conduct regular patrols of public areas for unauthorised advertising, and customers are encouraged to contact Council with any complaints… Council has not received any reports to date regarding Marxist posters being placed on public property."
The City Council, Parramatta Council, and Randwick council (where UNSW locates) have been reached out for comment.