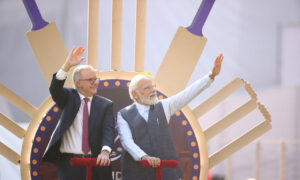 Australian Prime Minister Anthony Albanese has praised the defence relationship with India during a visit to Mumbai, declaring the Asian nation as a "top tier" defence partner.
The PM's comment comes as the two nations aim to deepen their ties in the Indo-Pacific as a counterbalance to an aggressive Beijing.
"For Australia, India is a top-tier security partner. The Indian Ocean is central to both countries' security and prosperity," Albanese said on March 9 while onboard the INS Vikrant.
For Australia, India is a top tier security partner. pic.twitter.com/YhS3aXHZiZ

— Anthony Albanese (@AlboMP) March 9, 2023
Albanese was the first foreign leader to inspect the INS Vikrant, the Indian Navy's first locally made aircraft carrier. The Aussie PM is currently in India for a four-day visit.
The relationship between Australia and India has grown since 2020, when Australia was invited to join the annual naval Malabar exercises that India conducts with the United States and Japan.
"And there has never been a point in both of our country's histories where we've had such a strong strategic alignment," Albanese said.
"We both depend on free and open access to sea lanes in the Indo-Pacific for our trade and economic well-being."
Albanese said that the defence and security partnership between the two nations had "never been busier or more productive," adding that more exercises, operations, and dialogue were performed in 2022 compared to previous years.
For instance, in December 2022, both countries held joint military drills in India in an effort to boost defence ties.
Australia to Host Joint Military Drill
Albanese also confirmed that Australia would host this year's Indian joint military drill, Exercise Malabar, off the coast of Western Australia.
"I am pleased to announce formally … that later this year, Australia will host Exercise Malabar for the first time, and India will—also for the first time—participate in Australia's Talisman Sabre exercise.
"It will be a great privilege to welcome India's Navy to Australia in August, and I thank them again for hosting me here today."
Shadow Trade and Tourism Minister Kevin Hogan told Sky News that strengthening trade relationships and security ties with India was "very important" for Australia's national security.
Hogan added that Australia has "a lot of work" to do to improve its trading relationship with India.
U.S.-India Relationship Integral to Australia-India Relationship
India's growing diplomatic relationship with the U.S. has been integral to the reshaping of the Australia-India relationship, according to Manoj Joshi, a Distinguished Fellow at New Delhi's Observer Research Foundation.
This is in contrast to the relationship a few years back when India rejected the Australian Navy's role in the Exercise Malabar military drill, where Australia was only allowed to attend just an observer.
"Now, both India and Australia are aligned with the United States in the Indo-Pacific region. That is really the cement that is binding the ties," Joshi said, reported the Voice Of America (VOA).
"The U.S. is the linchpin driving the Indo-Pacific strategy."
Australia, India, the U.S. and Japan are part of the QUAD group that seeks to counter Beijing's effort to dominate the Indo-Pacific.
However, during a QUAD geopolitical summit on March 3, diplomats of Japan, Australia, India and the U.S. said Beijing had no reason to fear the QUAD—as long as the communist regime "abides by" international rules.
"We don't try to exclude anybody. This is open architecture. So one thing we would like to say is just abide by the law of international ruling institutions. And as long as China abides by … the international institutions, standards and rules, then this is not a conflicting issue between China and the Quad," Japan's Foreign Minister, Yoshimasa Hayashi, said at the summit.
Anthony Blinken, U.S. Secretary of State, added that the QUAD was a force for "good positive affirmative action" and was focused on "concrete, practical needs" for the region.
In a joint statement, the QUAD group said: "We strongly oppose any unilateral actions that seek to change the status quo or increase tensions in the area."
"We express serious concern at the militarisation of disputed features, the dangerous use of coastguard vessels and maritime militia, and efforts to disrupt other countries' offshore resource exploitation activities."
Australia-India Free-Trade Agreement
In 2022, Australia and India signed a Free Trade Agreement known as the Economic Cooperation Trade Agreement (ECTA), where tariffs were removed from over 85 percent of Australian exports and from 96 percent of Indian imports.
Australia sought to diversify trading markets after a trade dispute with Beijing occurred following calls for an investigation into the origins of COVID-19 by then PM Scott Morrison.
Bilateral trade accounted for $US27.5 billion in 2021. Under ECTA, there is potential for bilateral trade to reach $US50 in five years.
Trade, investment, defence, education and supply chains of critical minerals are important aspects of the relationship between the two countries, former Indian high commissioner to Australia, Navdeep Suri, said.
The visit by Albanese comes days before a visit by Japanese PM Fumio Kishida, another member of the QUAD group.