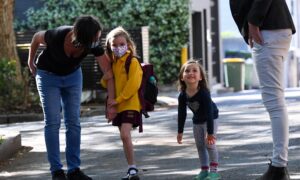 Motorists in NSW face $750,000 in school-zone fines over coming days despite students not returning to classes until next week.
School zones were back in effect across the state from Friday, with drivers reminded the zones also apply to student-free days.
Last January, NSW drivers racked up over $750,000 (US $533,000) worth of fines for speeding in school zones over two student-free days- roughly three times the rate of a regular school day.
Most of those caught, or 85 percent, were going less than 10km/h above the 40km/h limit and were automatically pinged by fixed or red light speed cameras.
Despite the apparent lack of awareness, hefty fines and double demerits still face those caught doing the wrong thing, NRMA spokesperson Peter Khoury warned.
"Clearly, people still are not getting the message that school zones operate on all gazetted school days, even on student-free days like today," Khoury said.
"The fines are justifiably high because it's never okay to speed around a school, but if you're caught in a school zone today, you will receive a steep fine as well as double demerits."
The penalty for drivers caught doing up to 10km/h over the speed limit in school zones is $494 and two demerit points, or four in double demerit periods.
Premier Dominic Perrottet denied the exercise was about revenue raising, saying some independent schools had already resumed on Friday.
He also said traffic was increased around schools due to parents purchasing uniforms and picking children up from before and after school care which continued over the summer.
"Today, for many, is a pupil-free day; for others, it is not. This is the consistent approach we have always taken at this time as we head into the school year," Perrottet said.
The NRMA is calling for renewed education surrounding school zone limits as well as efforts to curb dangerous parent behaviour, such as illegal parking, to make schools safer.
"Many councils and schools report that parent and guardian behaviour is the biggest challenge for road safety with people parking illegally in school zones. These behaviours are not only illegal, they're also dangerous," Khoury said.
"Our school zones are among the safest in the world, and yet we know that complacency can be a killer; that's why the NRMA believes now is the time to inject new energy into our efforts to keep children safe around schools."