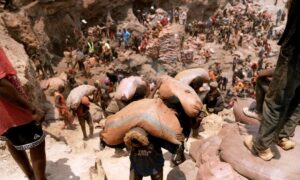 The Biden administration has announced that it will impose a 20-year mining moratorium on thousands of acres of land in Minnesota by citing the need to protect the natural environment, potentially dealing a blow to Twin Metals, a major mining firm with interests in the region. The move has attracted criticism from mining associations and lawmakers who insist that mining is necessary for the country's mineral security.
Secretary of the Interior Deb Haaland signed Public Land Order 7917, which withdraws roughly 225,504 acres of land in the Superior National Forest in northeastern Minnesota from mineral leasing, according to a Jan. 26th press release from the U.S. Department of Interior (DOI).
The action will protect the Rainy River watershed, including the Boundary Waters Canoe Area Wilderness, from "potential adverse impacts" of mineral or geothermal exploration and development, it stated.
"Protecting a place like Boundary Waters is key to supporting the health of the watershed and its surrounding wildlife, upholding our Tribal trust and treaty responsibilities, and boosting the local recreation economy," said Secretary Haaland, according to the release.
"With an eye toward protecting this special place for future generations, I have made this decision using the best-available science and extensive public input," she said.
The decision could harm the interests of Minnesota-based Twin Metals, which seeks to build an underground mine in Ely, a city close to the wilderness area.
Rep. Pete Stauber (R-Minn.), who represents the region where a proposed copper-nickel mine from Minnesota-based Twin Metals mining company was to be set up, called the Biden administration's decision as "an attack on our way of life."
Blocking Domestic Mineral Mining Development
Stauber pointed out that the Biden administration is funding mining projects in Chinese-owned mines in Congo where "over 40,000 children work as slaves in forced labor" and no environmental protections are observed.
"America needs to develop our vast mineral wealth, right here at home, with high-wage, union-protected jobs instead of continuing to send American taxpayer dollars to countries like the Congo that use child slave labor," he said in a statement.
"The only winner here is China, as Joe Biden continues to hand our foreign adversaries every advantage possible."
In a statement on Jan. 26, Rich Nolan, chief executive of the National Mining Association (NMA), criticized the Biden administration's move, calling it "nonsensical" when considering that the United States is looking to be a "leader in manufacturing, innovation, and climate."
According to Nolan, the U.S. government has imposed the mining moratorium on thousands of acres in Minnesota at a time when the demand for minerals like nickel, cobalt, and copper are "skyrocketing" because of their widespread application in solar and wind infrastructure as well as electric vehicles.
These lands could provide U.S. manufacturers with "plentiful sources" of these minerals. By closing off more American land, the administration is blocking out high-paying domestic jobs. The country is also losing out on mining operations that would have been done under strict environmental, safety, and labor regulations, Nolan pointed out.
A Blow for Twin Metals and US Self-Sufficiency
The Biden announcement comes after it canceled two federal mining leases owned by Twin Metals last year. The leases were located inside the Superior National Forest situated outside the Boundary Waters Canoe Area Wilderness. The company had filed lawsuits against the administration over the lease cancellations.
Twin Metals is "deeply disappointed and stunned" about the 20-year mining moratorium, the company said in a statement on Jan. 26.
"This region sits on top of one of the world's largest deposits of critical minerals that are vital in meeting our nation's goals to transition to a clean energy future, to create American jobs, to strengthen our national security and to bolster domestic supply chains," it said.
Twin Metals is a subsidiary of Chile-based Antofagasta. If the company's proposed underground mine were to be fully built, it would become a major source of nickel and copper for the United States.
The Duluth Complex has one of the largest undeveloped copper-nickel deposits in the world, with at least 200 years of resource potential, claims Twin Metals.
At present, America only has one nickel mine, which is scheduled to shut down by 2025.