Nine Injured, One Person Missing After Fire Engulfs Historic Building in Old Montreal
[ad_1]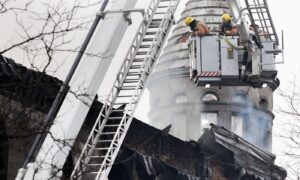 At least one person is missing after fire engulfed a building in Old Montreal this morning that left nine people injured.
A Montreal fire department spokesman says six of the injured had to be rescued from the three-storey building in the city's historic district by ladder.
Fire chief Martin Guilbault says those saved were transported to hospital for burns to the hands and face, and there were three people with injuries deemed more serious.
Later in the day, fire officials confirmed they were looking for at least one person who was unaccounted for after someone who knew them came to the scene to inquire about their whereabouts.
Patrick Fournel, a fire operations chief, says Montreal police are aiding fire department to track the person down, and firefighters used an infrared camera to search the building and will need to ensure it has cooled and is stable before searching further.
Firefighters were called at about 5:43 a.m. for the fire at a building that houses an architectural firm and residences, and it quickly escalated to a five-alarm blaze involving 130 firefighters.
Guilbault said one firefighter was also slightly injured in the eye but was treated on scene.
[ad_2]

Source link